St. Louis — Will Ward used to tell the kids to turn off lights simply because that's what parents do. Now he's a man on a national mission.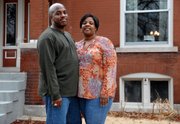 Will and Roxanne Ward and their two children are Missouri's entry in a national competition to conserve household energy. The family in the city's Oak Hill neighborhood will strive to cut their energy consumption for three months. Their goal is to out-conserve families in the other 49 states and District of Columbia.
The winning family gets the three-month run of utility bills paid by the sponsoring organization. Everyone involved gets a helpful bag of curly high-efficiency light bulbs, insulating wraps for water heaters, conservation-minded coloring books for the kids and other inspirational goodies.
Going green, saving money
The National Association of Regulatory Utility Commissioners is sponsoring the competition. Recently, two members of Missouri's Public Service Commission dropped by the Ward home to wish them well.
The commissioners had asked the Human Development Corp. of St. Louis, an anti-poverty agency, to recruit the Missouri team. HDC turned to one of its own employees, Will Ward, whose family was game to play.
"We thought it would be a great chance to do some conservation — and maybe get a few of those bills paid," Ward said. "That would make us 'green.' I'd never really thought about doing that before."
Until now, he said, home conservation was of the sort that most any parent can understand.
"I'd follow the kids around and tell them, 'If you're not using that light, turn it off,'" he said. "'Turn off the TV when you're not using it. Turn off the video game.' Every day, all day."
The contest began April 1 and runs through June, and will compare the contestants' utility costs for April through June in 2009 to the same period this year. A spokesman for the national association said no allowances are made for variations in local weather, although that may change next year.
That presents a challenge to anybody during spring, although it could be especially daunting to a Missouri contestant, given this area's potential for variation. In May, temperatures here can vary from the high 90s to the low 30s.
Preparing the house
The Wards live on the 4000 block of Juniata Avenue, two blocks south of Tower Grove Park, in a two-story brick home with a flat, tarred roof. Built in 1911, it still has radiators warmed by a small gas-fired boiler in the basement. Ward said that presents the family with a challenge, if the weather doesn't cooperate.
"The radiators do their jobs, although some rooms are warmer than others. And some get hot," he said. "We'll need to watch the thermostat."
They cool the house with window air-conditioners, a common system for radiator-heated homes because they usually lack air ducts. He said they'll have to watch those units, too.
The other families can watch and communicate with their competitors through a web-cam system that the national association is installing in each home. "Call this reality TV meets energy efficiency," said Missouri commissioner Robert Kenney.
Roxanne Ward said she's OK with that, to a point. "If it stays in one place, that's fine," she said.
She said their boys, Tobias Ward, 12, and Khali Slater, 6, are on board. "For the oldest, any chance to be in front of a camera is something he loves," Roxanne Ward said. "The little one is just going along. The most important thing to him is SpongeBob."
Too bad the fuel cost of commuting to and from school isn't thrown in. The boys go to Mann Elementary School, just across the fence of their back yard.
Robert M. Clayton III, chairman of the Missouri Public Service Commission, called the competition a good way to promote conservation by all families. He called it "empowering consumers to reduce their energy costs."
Copyright 2018 The Lawrence Journal-World. All rights reserved. This material may not be published, broadcast, rewritten or redistributed. We strive to uphold our values for every story published.