San Antonio — Hakeem Olajuwon arrived at the Alamodome in 1995 leading a middle-of-the-pack underdog against a dominant No. 1 seed.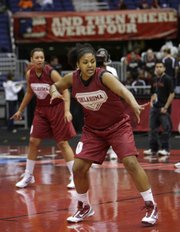 Like father, like daughter.
Oklahoma center Abi Olajuwon didn't want to discuss her Hall of Fame father Saturday, but when the Sooners open the Final Four against Stanford on Sunday, she'll be trying to duplicate his success here.
"Hopefully there's some luck still here," Abi Olajuwon said.
The Houston Rockets slouched into the 1995 playoffs as the No. 6 seed, but made a run to the Western Conference finals and wound up against the San Antonio Spurs, the top team.
The Spurs had the NBA's best record and league MVP David Robinson. But behind Hakeem Olajuwon, the Rockets won all three games at the Alamodome and ousted the for their second consecutive championship.
Like Hakeem's Rockets against the Spurs, Abi's Sooners (26-10) enter the Final Four as the inferior opponent to Stanford (35-1). But the Alamodome isn't just familiar ground to the Olajuwons: It's also home to Oklahoma's first Final Four appearance in 2002. Abi Olajuwon is a big reason why the Sooners are back.
Sharing the wealth: Need another way to describe the dominance of the Connecticut Huskies? How's this: they've got two national players of the year.
While senior Tina Charles won the Associated Press women's college basketball player of the year Saturday, teammate Maya Moore repeated as the Wade Trophy player of the year.
Slam dunk: It wasn't hard to predict the biggest cheers Saturday: Baylor phenom Brittney Griner dunking during layup drills.
Fans watching Baylor's practice didn't take their eyes off the 6-foot-8 freshman from the moment she walked on the court. Griner started with an easy two-handed dunk, but it was her one-handed dunk toward the end that got the most oohs.
Copyright 2018 The Associated Press. All rights reserved. This material may not be published, broadcast, rewritten or redistributed. We strive to uphold our values for every story published.