Ninety minutes before the Best Buy at Potomac Yard in Alexandria, Va., opened Saturday morning, there wasn't a single person waiting outside to buy Apple's latest hype-generating gizmo, the iPad.
Meanwhile, the International House of Pancakes across the shopping center's parking lot was doing boffo business, with more than two dozen people waiting for tables to clear.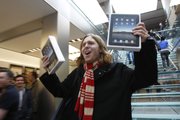 But then Greg Siegel materialized at the electronics store's front doors, followed moments later by Matt Lopez.
Let the new-product nerding-out begin! Sort of.
"I'm enough of a gadget geek and Apple fan that I wanted to come look at it on launch day," said Lopez, a 29-year-old graphic designer. He shrugged. "I don't know that I need it," he said. "I might not buy one."
Siegel, a 26-year-old information technology consultant, wanted the mid-priced model of the iPad, a half-inch-thick touch-screen tablet computer that's like an iPhone on steroids — without the phone. Cost: $599. "It's going to be interesting if I roll into work with it on Monday; it'll be a conversation piece." But, he added: "I might return it if I don't like it. I'm actually not a huge Apple fan."
The air in the two-person line was thick with ambivalence. Usually, Apple product launches whip gadget geeks into a frenzy, in the same way that sci-fi fans nerd out on "Star Wars" debuts.
There was certainly some of that elsewhere, as reports of cheering crowds and "I-P-A-D" chants at other sales locations lit up Twitter on Saturday. That was especially true at Apple stores, where the True Believers flocked — and where the company and its customers have the new-product routine down.
At Apple's Bethesda, Md., store, employees in royal blue iPad T-shirts handed out doughnuts and coffee and explained the logistics of the opening: A black velvet curtain hiding a new display for the iPad would drop at 9 a.m. Customers who had reserved iPads would enter first.
At the stroke of 9, employees started clapping and high-fiving one another, exhorting the crowd to join in.
Jacob Wellinghoff, first in line, had already been through three of these first-day releases, beginning with the iPhone launch in 2007, when he was just 14. Now 17, the Georgetown Day School senior arrived at midnight Friday, with a backpack full of Chex Mix and mini-muffins to sustain him until the morning. For its part, the store had put out a sleeping bag for the first iPad customer.
"I will use this in school to take notes during class," he told reporters. He was wearing beat-up Nikes and said he hadn't bought new sneakers in five years, instead saving his allowance for Apple products. He also skimped on Christmas and birthday presents.
Wall Street analysts have predicted that Apple will sell 2 million to 6 million iPads in 2010.
Copyright 2018 The Lawrence Journal-World. All rights reserved. This material may not be published, broadcast, rewritten or redistributed. We strive to uphold our values for every story published.