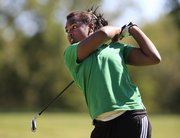 For the first time in a more than a decade, the top 10 scores at Thursday's Lawrence Invitational at Alvamar all came in under 80.
Unfortunately, for host Lawrence High and city rival Free State, none of those scores in the 70s belonged to a city golfer.
"I've been around for 10 years," LHS coach Mike Lewis said. "And I don't think we've ever had a Top 10 at 79 and under. There were some outstanding scores today."
Overland Park Aquinas swept the top spots, with the Saints winning the team title, with a team score of 302, and Gianna Misenhelter taking home the top medal in the individual competition after shooting a 2-under 70.
All of those low scores left the Lions (13th, 445) and Firebirds (16th, 461) a bit in awe.
"It's intimidating, to say the least," Free State senior Grace Brahler said.
Brahler was the lone city golfer to sniff the top 10, as she fired an 84, and was the only city golfer to break 100. Brahler, who started her round on the third hole, shot a 47 on the front nine and a sparkling 1-over 37 on the back nine. That 37 included a birdie on No. 11 and only one hole higher than a five.
"If my front nine would have been more like my back nine, my score would have been a lot lower," Brahler said.
Free State coach Craig Hershiser said Brahler's 84 was a solid score on the challenging course and added that he was pleased with how his top player is performing at this point in the season.
"This is where we think she ought to be," Hershiser said. "And, there's still time left in the season for her to go lower still."
Brahler's 84 was supported by teammates Alyson Butler (118), Bethany Cobbs (128), Lindsay Morris (131) and Emma Groene (134).
As for the host team, LHS was playing without usual No. 1 player Kathryn Lunte but still had two of the four golfers it sent to the course enjoy improvement.
No. 2 golfer Leslie Queen finished with a 120 and LHS's No. 3 golfer, Kristy Gerard, added a 110. Joining them, the up-and-coming Covert sisters, Taylor and Payton, continued to show vast improvement, finishing with a 113 and 102, respectively.
For Payton, the team-best 102, which she actually thought was a 104 before hearing the final scores, represented the second time this season that she had eclipsed her previous career best. Although she's not quite where she wants to be, Payton came away encouraged by the strides she made toward improvement.
"I'm progressing," Payton said. "So that's good. From last year to this year, it's just incredible how big the difference is. But I'm starting to get to the point where it's going to start getting harder to shave off more strokes."
This season marks just the second year that the Coverts have been playing the sport, which, according to Taylor, they have fallen in love with.
Of course, there was very little love flowing early Thursday morning, when golfers had to brave colder-than-expected conditions to get their rounds going.
"I was bad at the beginning and got better as the day went on," Taylor said. "I think it was just so cold in the beginning that it was tough to get going."
Added Brahler, who also struggled with the cool temperatures: "I guess the sun helped me more than anything today."
Both LHS and Free State will return to action Wednesday at the Aquinas tournament.
Copyright 2018 The Lawrence Journal-World. All rights reserved. This material may not be published, broadcast, rewritten or redistributed. We strive to uphold our values for every story published.