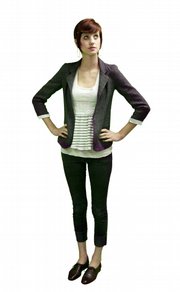 With today's economy, more and more teens are worrying about how they look on the outside rather than what name is sewn into the back of their clothing.
Labels are losing importance, and thrift stores are getting teenaged foot traffic.
"I think you can find something good at almost any store you go to," says Free State senior Emily Johnson. "It's all about how you put it together."
Johnson says while she still goes to mainstream stores like H&M; and Forever21, some of her best finds come at Wildman Vintage, such as a pair of $20 high quality leather cowboy boots.
She also takes inspiration and clothing from her mother's closet.
"I borrow a lot of my mom's clothes," Johnson says. "My mom has really good style."
But it's not like all labels have gone to the wayside.
"I think they're important to some people," says Lawrence High School senior Gypsy Williams. "Not to me, necessarily, but some people want to have certain labels to make them look like they have a certain amount of money."
Williams says thrift stores are cheaper and likes clothes that are already worn in because they're more comfortable.
Her favorite find is a pair of Liz Claiborne pink and white polka dot shoes that she calls "old lady shoes."
"I think they were a quarter," Williams says. "But I've worn them every day for about three years."
While Williams actually shops at thrift stores, she says some people spend lots of money trying to look like they made great finds at resale shops.
"The whole hipster thing is in so a lot of times people try to look poor," she says. "They'll spend a bunch of money on looking like they got stuff from thrift stores.
HS senior Kyler Thomann also took to vintage stores because of the deals.
"I was tired of paying $40 for a shirt," he says.
Plus, recycling fashion means taking a walk back in time.
"You feel like a walking history book," he says.
But Thomann also notes that labels are in for certain students.
"Some people are still into the Abercrombie, American Eagle look," he says. "I've always shopped at vintage stores."
Williams will even alter some pieces to make her own style.
"I go to the social service league a lot and sew stuff or just cut stuff up," she says.
Free State senior Julien Stockwell is a regular at Arizona Trading Company in downtown Lawrence. He says his fashion sense has no bounds, but includes shorts and wearing patterns on patterns.
"I definitely don't have money spurting out of my ends, so it's always nice to get it a little cheaper," Stockwell says. "I always can find what I'm looking for at the resale stores."
Stockwell says his group of friends don't need to have labels to make them feel good about what they're sporting.
"There's certain things that you specifically shop for, like a Hanes T-shirt or a North Face jacket," he says. "Other than that, labels have just gone with our money."
Copyright 2018 The Lawrence Journal-World. All rights reserved. This material may not be published, broadcast, rewritten or redistributed. We strive to uphold our values for every story published.