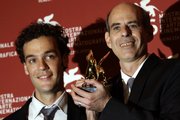 Venice, Italy — "Lebanon," an Israeli film that recounts Israel's 1982 invasion of the Middle East country through the eyes of four soldiers in a tank, won the top prize at the Venice Film Festival on Saturday.
The festival jury announced the Golden Lion and other prizes on the last day of the 11-day screening of films from around the world. An Iranian film about women and repression took the No. 2 prize, the Silver Lion.
"Lebanon," directed by Samuel Maoz, tells the story of Israeli paratroopers searching a hostile town. The conflict is seen through the binocular-aided eyes of those inside a tank, with their cramped quarters lending an anxious sense of claustrophobia to their viewpoint.
"I dedicate this work to people all over the world that come back from the war safe and sound," the director told the audience at the award ceremony. "They work, get married, have children," but the memories get "stuck in their souls."
Maoz was a young man when he served in the Israeli military during the invasion, which led to a long occupation of southern Lebanon.
Variety has described the film, one of 25 which competed for the Golden Lion, as the "boldest and best of the recent mini-wave" of Israeli movies. The awards jury was headed by Ang Lee, himself a Golden Lion-winning director, who marveled that if "Lebanon" was Maoz's first film what might he do next.
He said the jurors were both quick and unanimous in choosing "Lebanon" and were "happy not to be inside that tank, which could have been any tank in any war."
Iranian filmmaker and photographer Shirin Neshat snared the Silver Lion for best director for her feature debut with "Zanan Bedoone Mardan" ("Women Without Men").
The film depicts four women from all classes of society in 1953 Iran, on the eve of an American-aided uprising that deposed an elected government that had nationalized the oil industry, and leading to the return of the shah.
A comedy, "Soul Kitchen," by German-Turkish director Fatih Akin, won the Special Jury Prize. The film represented a departure from the more serious tones set in Akin's 2004 Berlin Golden Bear winner "Head On" and 2007's "The Edge of Heaven," which won the screenplay award at the Cannes film festival.
Colin Firth took best actor award for his role in Tom Ford's "A Single Man" as a college professor grappling with solitude after his longtime partner dies. Fashion designer Tom Ford made his director's debut with the movie.
Ksenia Rappoport, starring in the Italian film "La Doppia Ora," won best actress honors.
Copyright 2018 The Associated Press. All rights reserved. This material may not be published, broadcast, rewritten or redistributed. We strive to uphold our values for every story published.