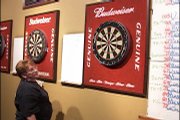 Editor's note: Reporter Mark Boyle takes us behind the scenes of news stories in the area. This week, he catches up with a couple of dart league regulars and learns the intricacies of throwing darts. It's a game that anyone can play, and little to no experience is needed to get started in Lawrence Dart Association league play.
With just a dart board and some free time on Monday nights, you can get involved with one of the largest dart leagues in the state of Kansas.
The Lawrence Dart Association conducts Monday night league play throughout the fall season in at least eight Lawrence bars. "We take people of all skill levels and all backgrounds; anybody who can throw a baseball can throw a dart," said Erin Adams, who has thrown darts for 12 years.
The Lawrence Dart Association has been running for more than 30 years, and Dean Haller was around when it began. Haller, who has traveled the country playing in dart leagues, says she comes for the friendships and competitive spirit.
"It's always good to see young people starting and getting new people started. It's great," Haller said.
Each Monday night, league play consists of competition among several four-person teams. The teams play games such as double in-double out 301, 701 and cricket. The league only conducts games at locations that offer cork dart boards and steel-tip darts. Michael Walters, president of the Lawrence Dart Association, says electronic dart boards are too inconsistent for accurate league play.
"Steel-tip darts, a lot of times, it will stick in the board a lot better; it won't bounce out. A lot of times with your plastic darts, you have the holes you have to make it in so if you make it in the hole, you're fine; if not, your dart won't stick in," Walters said.
After a few pointers from longtime thrower Wiley Burnett, the two of us squared off in a friendly cricket competition that quickly turned tense. Burnett says most nights, while people are there to socialize, the competition is what makes the various events fun.
The problem for someone like me isn't the throwing of darts, but the mathematics required with the cork dart board. Walters assured me that darts would provide me a great chance to sharpen my mind while socializing as well.
If you would like to get involved with the Lawrence Dart Association leagues, e-mail lawrencedarts@live.com. League sign-ups will be at 7 p.m. Sept. 21 at the West Coast Saloon, 2222 Iowa.
Copyright 2018 The Lawrence Journal-World. All rights reserved. This material may not be published, broadcast, rewritten or redistributed. We strive to uphold our values for every story published.