Photo Gallery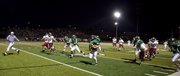 2009 LHS-Free State football
Lawrence High was supposed to come out with nothing to lose. Instead, the Lions came out like lambs.
Free State scored four touchdowns before four minutes had elapsed and cruised to a 42-14 victory in the city football rivalry Friday night.
"I don't know what to say," Lawrence High coach Dirk Wedd said. "They punched us in the mouth early, and we didn't respond."
It was almost as if Free State quarterback Camren Torneden's 71-yard touchdown run on the opening play destroyed every shred of any hope the winless Lions had of pulling off a stunner.
"I know it took a lot out of me," said Lions' quarterback Chris Gaston, who doubles as a defensive back. "We weren't ready for Camren's speed. We tried to keep our heads, but it was hard."
After Torneden's early TD, the Lions fumbled the ball away on their first two possessions, each time surrendering an easy touchdown.
Then Gaston threw an interception — his only pass of the night — and the Firebirds soon scored again. It was 28-0 before the Lions knew what hit them.
"After that we finally got our offense on track a little," Gaston said. "We did some things and finally found a rhythm."
They even found the end zone a couple of times before halftime, thanks to a pair of grind-it-out drives that ate the clock and, more important, kept the Firebirds' potent offense off the field.
"Take out the first quarter," Gaston said, "and we played pretty well."
At the same time, however, Free State coach Bob Lisher was hardly pulling out all the stops after the Firebirds jumped to the commanding early lead.
For instance, Free State probably could have scored again prior to the break, but Lisher opted not to use any of his three remaining timeouts to stop the clock. He also had the fleet Torneden carry the ball just once in the second half.
Wedd was well aware of Lisher's unwillingness to run up the score.
"Lish and I have coached a lot together and a lot of times against each other," Wedd said, "and right now it's a mismatch. But maybe it won't be next year. Or the year after that."
As it stands now, though, the Lions (0-8) are assured of finishing with eight defeats for the first time in 36 years. And they'll have to knock off Leavenworth, also winless, Friday in their home finale to match the 1973 team's 1-8 record.
Lawrence High hasn't compiled a goose-egg win season since 1906. That's right — 103 years.
"We've got to find a way," Wedd said. "We have 10 seniors we have to send off with a win, and we've got to build for next year."
Added Gaston about the Leavenworth game: "We'll come out on fire and hopefully take them down. It's our last chance."
Copyright 2018 The Lawrence Journal-World. All rights reserved. This material may not be published, broadcast, rewritten or redistributed. We strive to uphold our values for every story published.