Photo Gallery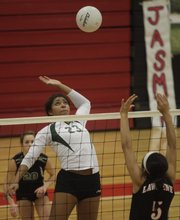 Lawrence High volleyball 3, Free State 0
There was a little blood, plenty of sweat but, surprisingly, no tears.
In fact, Thursday's best-of-five battle at Lawrence High, between the LHS volleyball team and crosstown rival Free State, was more like a big love-fest full of good volleyball, great effort and hugs and smiles for everyone.
"This was an amazing night," said LHS senior Jasmyn Turner, one of three Lions honored on Senior Night. "I think it was just a combination of everything, us playing Free State, it being Senior Night, the crowd. It was great."
Thursday's city dual represented the final sub-state tune-up for both teams, and it was evident from their play that these girls are ready to ramp it up a notch or two on Saturday.
Although the Lions swept the Firebirds in three games — 25-20, 25-21 and 25-23 — Free State's players left the gym feeling pretty good about the way they matched the effort and intensity of the more experienced Lions.
"That's probably the most intense match we've played in a while," senior Marissa Thibodo said. "Maybe the most intense we've played all year."
Throughout all three games, it was clear that neither team was going to lie down for the other. The teams had split their previous two meetings this season, and both were looking for revenge — along with bragging rights — Thursday.
"Before the match, we tried to look at them as any team other than Free State," senior Alex Kincaid said. "We just wanted to treat them like any other team and not psych ourselves out."
It worked. Lawrence High jumped to a 4-1 lead in all three games. Although the Lions' early advantage was erased each time, those quick points at the beginning of each game might have been the deciding factor in the match.
Amped up and aiming to destroy, both teams made as many errors as kills. In the end, though, it was the Lions who made the key plays and the Firebirds who came up short at the most crucial points of the match.
"We've kind of been that way all season," Free State coach Nancy Hopkins said. "We've lost a lot of games by four points or less, and we're constantly trying to get over that hump."
After playing even with LHS in the opening match, the Firebirds fell behind late when the Lions turned a 15-14 lead into a 20-16 advantage. Free State closed the gap to 21-19 with a mini-run, but then saw LHS's Lillian Schonewise (14 kills on the night) and Kelsey Broadwell (four kills) toughen up at the net to lead the Lions to victory.
In the second game, it was the Lions who were forced to come from behind. On the strength of Chantay Caron (six kills) and Alex Mollohan (six kills, three blocks), the Firebirds took a 21-18 advantage into the home stretch and forced LHS coach Stephanie Magnuson to use a timeout.
Whatever Magnuson said during the break sure did work. LHS scored seven of the next 10 points to win Game 2, 25-21. Schonewise contributed three kills and a block down the stretch and, with the game tied at 21, the Lions benefited from three straight Free State errors to win.
"I think this night just really brought us all together," Turner said. "Normally when other teams have gotten to 21 first, we've just shut down and lost the game. But we didn't tonight. We played hard all the way to the end."
The Lions started that way, too. Four points into the second game, junior setter Kiely Mosiman and senior Carrie Klemencic collided while diving for a ball. When she came up, Mosiman had blood trickling down her face, but only stopped because of an official timeout to treat the injury. Otherwise, she had no designs on breaking her focus.
"Alex (Kincaid) got elbowed in practice on Wednesday and had a nice cut under her eye," Mosiman said. "I told her I wanted one, and I guess I got what I wanted."
Added Klemencic, who tallied seven kills and one huge apology on the night: "That was the ultimate take-one-for-the-team moment right there."
The final game went much the same as the first two. LHS jumped out to an early lead, Free State battled back in the middle and LHS pulled away late.
With five kills and an ace, Klemencic was particularly sharp in the finale — her last home game in an LHS uniform.
"This was the best environment we've ever had here, that's for sure," she said with a giant smile.
The thing was, even the Firebirds were left smiling at the end of this one. Hopkins pointed out that many players on both teams were friends and that, when they aren't playing one another, they often root for each other. Senior setter Clare Frantz supported that claim with her assessment of the loss.
"This was still a blast," she said. "I've never played in front of a crowd this big."
Next up for both teams is Saturday's do-or-die sub-state tourney. LHS (21-16) is the No. 3 seed and will play Olathe East (14-23) in the first round. Free State (16-21) is the No. 5 seed and will take on Leavenworth (17-20) in the opener. Both teams will play at 3 p.m., and both matches are at Olathe South High.
The winners will play for a sub-state championship at 4 p.m., and, this time, the two schools won't have to worry about knocking each other out.
"When we first saw the bracket, the first thing my girls said was, 'Yeah, now we can both go to state,'" said Hopkins of the fact that LHS and FSHS are on different sides of the sub-state bracket.
Added Mosiman, one of five Lions who contributed to last year's run to the Class 6A state tournament: "I think we played great tonight, and I think we're exactly where we need to be heading into sub-state."
Copyright 2018 The Lawrence Journal-World. All rights reserved. This material may not be published, broadcast, rewritten or redistributed. We strive to uphold our values for every story published.