Tuesday was a night of mixed emotions for the Lawrence High volleyball team, which split two matches at a home triangular to move to 20-16 on the season.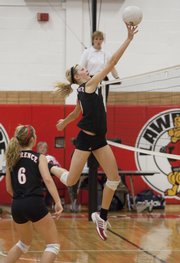 It wasn't just the one up and one down in the win/loss column that created a contradictory night for the home team. It was also that in defeating Emporia (25-17 and 33-31) and falling to Blue Valley North (25-19 and 25-14), the Lions were up on offense and down on defense, high on hustle and low on focus.
In the end, that produced a rather average night for a team that strives to be better.
"These girls know what they're lacking right now," LHS coach Stephanie Magnuson said. "And they're determined to fix it."
Specifically on Tuesday, that missing element to the Lions' game was defense and serve-receive. To the casual observer, it might have seemed like the Lions played fantastic defense. They scrapped and fought to keep balls alive and never hesitated to hit the floor.
The reality of it was, if they had made better passes and received serves with a little more consistency, they wouldn't have had to work so hard to stay in each point.
"Some days you wake up in the morning and you either click or you don't," junior Mary Coldsnow said. "We did some things well tonight, but overall I think this was one of those nights where we just didn't click."
The Lions kicked off the evening on a high note, quickly disposing of Emporia, 25-17, in the opening game of their first match. In Game 2, the seeds of future struggles were planted in a 33-31 LHS victory. Despite struggling in some aspects of that one — again, defense and passing were the culprits — the Lions had enough offensive firepower to stave off the upset bid. For that, they had junior Lillian Schonewise to thank.
By now, it's no secret that the tall, athletic Schonewise is a key part of the LHS offense. Every team that plays the Lions knows that, and most gear their defensive game plans toward taking her away. On Tuesday, the only thing that took Schonewise away was the Lions' inability to get her the ball consistently.
Bad passes sent junior setter Kiely Mosiman scrambling to recover, and that left Schonewise — along with outside hitters Jasmyn Turner and Coldsnow — off balance as she approached the net.
When things did go well — easy pass, smooth set — Schonewise rewarded her team by uncorking a number of monster kills that hit the floor before the defense had a chance to react.
"She's finally becoming the force we knew she could be at the beginning of the season," Magnuson said of Schonewise. "We get a huge lift out of every one of her kills, but part of her role is also to open up the outside hitters for one-on-one attacks, and I think she did a good job of that tonight."
Schonewise did a little bit of everything, good and bad, on Tuesday. In addition to several ferocious kills, she also added a few blocks, tossed in some good passes and even recorded an ace or two off of her serve. On one play, she was blocked in the middle, covered her own rejection and, one hit later, lifted a pass over her head and into the deep corner for a point.
She also had moments where she tried to do too much, missed open swings and served long or into the net. Her dominance is still a work in progress, and the Lions know that. They also know that, when she's on, nobody lifts their spirits like Schonewise.
"We all have our own little quirks and our own roles, and we laugh about it a lot in practice," Coldsnow said. "But when Lil buries a ball on the other side of the net, it just gets us really pumped up and helps us carry the momentum to the next point and the next point."
Added Magnuson: "I think everyone on our team is important, and we get excited when anyone gets a kill. But when individuals are struggling, we look to Lillian to pick us up."
Tuesday, Schonewise did all she could to lift the Lions. It was their defense that let them down.
LHS will close the regular season Thursday with a home dual against crosstown rival Free State. The Lions and Firebirds have split two meetings this season, and Magnuson said she expects her team to focus on defense up until and throughout Thursday's best-of-five city showdown.
"Defense is a mentality," Magnuson said. "We had it at the beginning of the season, and somehow we lost it. I think some of the girls are overanalyzing things instead of just playing."
Copyright 2018 The Lawrence Journal-World. All rights reserved. This material may not be published, broadcast, rewritten or redistributed. We strive to uphold our values for every story published.