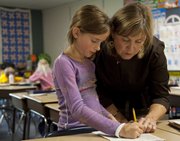 Topeka — Lawrence public school students went above and beyond when it came to the state standardized assessments.
For the first time, students in every public school in the city hit the state's Standard of Excellence in at least one subject area. Twenty schools got the award buildingwide in at least one discipline, making last school year Lawrence's highest-achieving yet.
"We're just getting much more precise about how we provide instruction to students and what students need to learn, know and be able to do," chief academic officer Kim Bodensteiner said.
And the district is moving right along with state trends.
For a ninth straight year, more Kansas students are achieving or exceeding reading and math standards, officials announced Tuesday.
"We are very pleased with the achievements," said Deputy Education Commissioner Diane DeBacker as she unveiled the Kansas State Report Card for 2009.
On the reading test, 85.7 percent of students are meeting or exceeding standards, up from 84.1 percent in 2008 and 59.2 percent in 2000.
On the math test, 82.8 percent met or exceeded standards, compared with 81 percent in 2008 and 50.3 percent in 2000.
In both math and reading, achievement increased at every grade level — the tests are given to students in third through eighth grades and in high school — and every subgroup. The subgroups are students who receive free and reduced-price lunches, students with disabilities, English language learners, African-Americans and Hispanics.
"To see these increases is very encouraging," DeBacker said.
The math and reading tests are used by the federal government to determine whether schools are making adequate yearly progress under the No Child Left Behind law.
But for a certain grade or building to be awarded the state Standard of Excellence, it takes more than being proficient.
There must be a certain percentage of students scoring at the "exemplary" level, the highest on the scale. Grades and schools also cannot have more than a certain percentage of students in the lowest score category, "academic warning," which for most groups is 5 percent.
"Standard of Excellence looks at the top level and the lowest level and makes sure you're having more students at the top and very few students at the bottom," Bodensteiner said.
The state also gives a science assessment to students in fourth, seventh and 11th grades. On that test, student scores increased slightly in fourth grade and 11th grade and remained the same in seventh grade.
Bodensteiner says that while the traditional focus is on reading and mathematics, the district is happy with science scores.
"We're pleased with the number of schools that achieved recognition, but we know that's an area that we're continuing to work on," Bodensteiner said. "Both science and writing are areas that we need to continue to improve our curriculum."
The writing test is given to fifth, eighth and 11th grades. This year was a new version of the writing test and assessments director Terry McEwen said it was much more intensive than in years past.
"The first year of anything, it's hard to know how to approach the instruction in advance of it," McEwen said. "Writing is important to us, and we have actually developed our own district level writing assessments as well."
Even with the improved percentages, the number of school districts that didn't attain adequate yearly progress under No Child Left Behind increased from 27 in 2008 to 34 in 2009, which represents 11.5 percent of all districts. And the number of individual schools that didn't make adequate yearly progress increased from 144 to 172, which represents 12.4 percent of Kansas schools. Every school in Lawrence, with the exception of one subgroup at Lawrence High, made AYP this year.
Copyright 2018 The Lawrence Journal-World. All rights reserved. This material may not be published, broadcast, rewritten or redistributed. We strive to uphold our values for every story published.