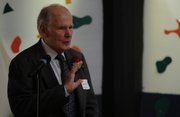 Former Kansas University football coach Don Fambrough introduced Joe Flannery, the president of Weaver's Inc, as one of the newest members of Lawrence High School's Hall of Honor.
Fambrough said he sent his recruits from the South to Weaver's Department Store to get coats so they wouldn't freeze during the winter.
"They never turned me down," Fambrough said. Fambrough was close friends with Flannery's father, Larry, and continued a friendship with Joe, who graduated from LHS in 1968.
"I knew a lot of people that are presently in the hall that have been good friends over the years," Flannery said. "Many of them have been my mentors, so it was just a tremendous honor and just a complete surprise."
Ben Hall, a graduate of Liberty Memorial High School class of 1950, is a pioneer in genetic engineering of yeast, and also a new member of the Hall of Honor. His technology discovered at the University of Washington led to the development of insulins as well as vaccines for hepatitis B and cervical cancer.
"(Lawrence High) means to me a high quality, reassuring social setting in which to develop, to go from being a very young adolescent to almost maturity," Hall said.
Hall hasn't been in Lawrence for a while and it was his first time in the LHS building at 19th and Louisiana streets.
"Very fancy," he said. "It's a sign of success of Lawrence High School."
The Hall of Honor names its first inductees in 1994. The first two alumni honored were broadcaster Max Falkenstien and Carl Knox, an educator and former school district superintendent. The Lawrence High Alumni Association oversees the hall of distinguished alumni.
Copyright 2018 The Lawrence Journal-World. All rights reserved. This material may not be published, broadcast, rewritten or redistributed. We strive to uphold our values for every story published.