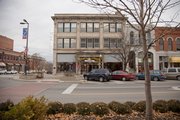 I've been amazed at some of the new digital point-and-shoot cameras hitting the market these days. The feature I've found to be the most impressive is the zoom lens capability on a few models. My first lenses at the Journal-World in 1984 were a 24mm wide-angle, 35 semi-wide, 55 macro, 85 medium telephoto, and 180 and 300 telephoto lenses. I could put a 1.4x tele-extender on the 300 to make it an approximate 420mm. The combined weight of all that metal and glass, not counting the camera, was about 11 pounds.
Within the last five years, my lens system has been reduced and simplified to a 50mm, a 24-105mm zoom, a 70-200mm zoom and a 300mm. The total lens weight is now just a little over 3 pounds but with the same focal range coverage as in 1984.
So you can understand my amazement when I spotted an advertisement for the Nikon Coolpix P90 - a 12 megapixel camera, with a ridiculous optical zoom covering a range of 26mm to 624mm, weighing 14 ounces. If you attend college or pro football games and watch the photographers shooting from the sidelines, most likely the longest lens any of them will have will be a 600mm. It's a beast of a lens. It will be supported on a monopod because the lens alone weighs about 11 pounds. And they cost about $10,000.
Now I'm not saying you could cover a football game for Sports Illustrated or the J-W with that Nikon Coolpix, because there is a definite difference in quality and performance. But considering the Coolpix costs only $400 and fits in the palm of your hand, you have to appreciate the genius of today's technology no matter what your skill level as a photographer.
If the Nikon's 14 ounces is too much for you, check out the smaller, pocketable Panasonic ZS3. It has a 25-300mm lens in a camera body just 1.29 inches thick. It weighs 8 ounces. Happy zooming.
Copyright 2018 The Lawrence Journal-World. All rights reserved. This material may not be published, broadcast, rewritten or redistributed. We strive to uphold our values for every story published.