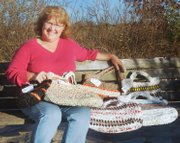 Tonganoxie — Karen Parrett is taking used plastic bags and turning them into ... plastic bags.
The rural Tonganoxie resident recycles plastic bags by crocheting them together to make larger bags that can be used again and again, just as canvas bags are used to hold groceries and other items.
"I don't like to use any new ones," Parrett said. "That's not the purpose of the recycle."
Friends, family and co-workers give Parrett their plastic grocery and newspaper bags, which Parrett cuts into pieces that resemble mammoth rubber bands. She cuts thinner bags into two-inch strips and thicker bags into smaller strips. Then, with a crochet hook, she transforms those into plastic tote bags.
Parrett said she learned about making the tote bags while reading a magazine from her family's insurance company. Inside was a how-to story about making the bags, complete with pattern information.
She has been crocheting the bags for about a year, though she has done other crochet work for about 25 to 30 years.
"It's a stress reliever, so I crochet all the time," she said.
Afghans, kitchen curtains and potholders are some of the things Parrett has crocheted — "old-lady stuff," she said with a laugh.
Though she takes joy in her new hobby of plastic bag crocheting, it is met with some good-natured ribbing from her family when she works on bags while they are watching television. "It's a lot more noisy than yarn," Parrett's husband, Doug, said.
Parrett has finished about 30 tote bags and has done specialty bags for people, such as a small orange and black Halloween trick-or-treat bag and a pink Mary Kay bag. One crocheted tote bag requires about 50 plastic bags to complete.
Parrett's tote bags now are for sale inside Candle Queen Candles Gift Boutique, a downtown Leavenworth store that offers homemade candles and other gifts.
"I think people love and appreciate that it's the ultimate recycling," shop owner Stacy McCowen said. "I knew immediately that I loved it. And it's very sturdy, too."
The tote bags sell for $40 at the store.
Parrett's hobby has attracted enough interest that she's made business cards with "The Bag Lady" under her name.
Even with those business cards, Parrett reiterates that her crocheting is simply a hobby.
"It's just a fun way to recycle," she said.
Copyright 2018 The Lawrence Journal-World. All rights reserved. This material may not be published, broadcast, rewritten or redistributed. We strive to uphold our values for every story published.