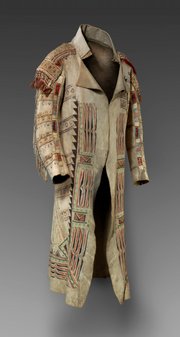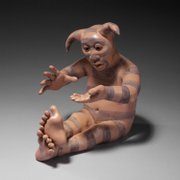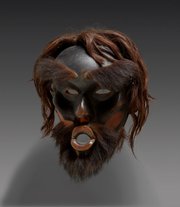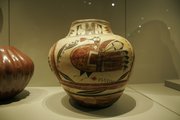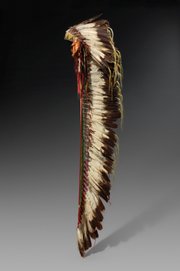 GALLERY FACTS
Facts about the new American
Indian Galleries at the Nelson-Atkins Museum of Art:
• 6,100: Square footage of the exhibition space.
• $7.9 million: Cost of the gallery project.
• 205: Number of objects displayed.
• 42: Number of tribes represented.
• 38: Number of cases in the exhibition.
Kansas City, Mo. — The figure appears to be singing out from behind the glass.
Its large eyes peer from across the dimly lit room, spotlights illuminating the tan and black on its clay body. It has starred in shows before — it's been on the cover of several art magazines, in fact.
It's certainly a star in the Kansas University anthropological collection. But now it's co-starring in the new American Indian Galleries at the Nelson-Atkins Museum of Art, which open to the public on Wednesday. The new space quadruples the area previously dedicated to American Indian art to 6,100 square feet and puts the works in close proximity to its other American art collections — which is no coincidence.
"What we have done at the Nelson, I must say, is an extraordinary commitment," says Gaylord Torrence, the museum's curator of American Indian art. "Few fine arts museums have done what we're doing."
The exhibits include works from pre-colonial days to the present, representing the full scope of geographic, tribal and media that encompass Native American art. There are baskets, canes, pottery, coats, a headdress, masks and other representative works.
"What we are is a relatively small collection of what I believe people will find is of extremely high quality," Torrence says.
Well-known works
The two pieces on loan from the collection at KU's Spencer Museum of Art would fall in that category, Torrence says.
The well-known figure — which is approximately 2 feet tall — dates to around 1880, about 20 years before it was donated to KU. It was made by an unknown artist in the Cochiti Pueblo tribe.
"It's famous within the field as being probably the finest object of its kind," Torrence says.
Next to it in the galleries is a bowl by Hopi master potter Nampeyo, also from the late 1800s. That piece is unique because it is one of a few known works attributed to Nampeyo that doesn't conform to her well-known style, according to Angela Watts, associate collection manager at the Spencer Museum of Art.
"At the time I asked for this loan, they had no real means of showing these," Torrence says. "They were in the anthropological collection, and nothing was on view at that time. I asked if the university might be willing to lend these two very, very important pieces to this installation so they would have a presence."
New approach
KU is working toward being able to show some of these types of works itself.
When the KU Museum of Anthropology closed in 2002 as part of cost-cutting moves, the collection was no longer on display to the public. The collection was transferred to the guidance of the Spencer staff in 2007.
Watts, who arrived at KU about two years ago, and other staff are working to create a database of the approximately 10,000 objects, which include both Native American items and items from around the world.
She says while there was a shift in administration from history to art, the Spencer has tried to look at the items in a multidisciplinary way.
"I think we do things from various angles," she says. "We can look at pieces and think they're beautiful, well-made, that the painting is done really well. But this all figures into a certain place and time, like the relationship between tribal cultures or new markets developing."
The Nelson's Torrence says shifts such as the one at KU help to recognize the works of individual artists, even though many of their names have been lost over time.
"I think, increasingly, American Indian art is being recognized for the quality it possesses," he says. "It's as simple as that. And we have long been willing to look at the arts of Africa or Oceania, while a lot of American Indian art was lodged in anthropology museums, ethnographic collections. And there is a shift occurring."
'Increased presence'
That shift certainly is evident at the Nelson, where 205 items currently are on display. Those will rotate over time, however, showing the variety of works in the museum's collection.
"It's almost overwhelming to consider the diversity that existed on this continent," Torrence says.
And while many of the works date back several centuries, the tradition continues today. Torrence says he's hopeful the collection can be a resource for Lawrence's Haskell Indian Nations University, and that the museum can establish internships for Haskell students.
"Native American artists are still with us," he says. "Native American cultures are still with us, and they're having an increased presence in our national identity."
UPCOMING EVENTS
The Nelson-Atkins Museum of Art, 4525 Oak St. in Kansas City, Mo., will host an American Indian Celebration Weekend Saturday and Nov. 15. Here is the schedule:
Saturday
• Noon-12:45 p.m., Bloch Lobby — Haskell Performance Group performing a smoke dance, native singing and traditional flute performance.
• 1 p.m.-1:30 p.m., Atkins Auditorium — Copper Maker Dancers, performing Kwakiutl dances. Free, but tickets required, (816) 751-1278.
• 1:45 p.m.-2:30 p.m., Bloch Lobby — Midnite Express, performance of hand drums, singing and dance.
• 3 p.m.-3:30 p.m., Atkins Auditorium — Copper Maker Dancers. Free, but tickets required, (816) 751-1278.
Nov. 15
• 1 p.m.-1:45 p.m., Kirkwood Hall — Midnite Express.
• 2 p.m-2:30 p.m., Atkins Auditorium — Copper Maker Dancers. Free, but tickets required, (816) 751-1278.
• 3 p.m.-3:45 p.m., Bloch Lobby — Haskell Performance Group.
• 4 p.m.-4:45 p.m., Kirkwood Hall — Haskell Performance Group and Midnite Express, leading a round dance.
Copyright 2018 The Lawrence Journal-World. All rights reserved. This material may not be published, broadcast, rewritten or redistributed. We strive to uphold our values for every story published.