Photo Gallery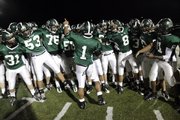 Free State football 38, Olathe East 7
Turnover turnabout is fair play.
This time Olathe East made the gaffes, and Free State staggered the Hawks, 38-7, in a Class 6A first-round football playoff Friday night at the Firebirds' field.
"All week we said we don't want revenge, we want redemption," Free State senior Keene Niemack said.
In their season-opening 29-20 loss to Olathe East, the Firebirds had committed five turnovers — four interceptions and a lost fumble.
This time it was the Hawks who were guilty of the five turnovers — three interceptions and two lost fumbles. And that doesn't include O-East's failure to field a short kickoff that led to Free State's final touchdown.
"For nine weeks our guys have been working hard to get better," Free State coach Bob Lisher said. "Obviously, we proved tonight we have gotten better."
Actually, Friday's offensive numbers were about the same as they were in the first meeting, but the Firebirds were guilty of just one giveaway in the rematch — a bobbled snap on, of all things, a knee-touching "victory" play with only a couple of ticks left.
And the Firebirds' defense was stifling. O-East's lone touchdown came on a 73-yard bomb early in the second quarter. Take away that play and the Hawks had only 132 yards of offense. O-East managed only eight first downs, and one was via a penalty.
"Defensively, we played much better, and I expected us to," Lisher said, comparing the two meetings.
Camren Torneden threw two touchdown passes and had one of the Firebirds' three interceptions. The other thefts were by free safety Preston Schenck and by sophomore reserve Trey Vanahill in the closing moments.
"We didn't put a lot of emphasis on it," Lisher said of the Firebirds' first-game errors, "but the kids had it on their minds."
Torneden, who threw three of those interceptions against the Hawks, had them on his mind, that's for sure. He had promised earlier in the week he wouldn't commit any turnovers, and he didn't.
"We just believed that first game shouldn't have been like that," Torneden said. "We showed who's improved most."
Free State hit the Hawks with a three-touchdown haymaker in the first quarter, taking advantage of the wind at their backs. They had short fields on all three possessions — once after a fumble recovery and another time after Niemack's 32-yard punt return.
"The thing I like is when our guys get up," Lisher said, "they don't let up."
Nevertheless, there were a couple of disquieting notes. The Firebirds have been relatively injury-free all season, but they lost tailback Kirk Resseguie early in the third quarter and tackle A.J. Simons in the fourth.
Resseguie, who has rushed for more than 1,000 yards, tweaked a knee, and Simons suffered a shoulder stinger.
Resseguie vowed he would play next week when they Firebirds travel to Olathe North in an attempt to avenge their only other loss of the season — a 38-20 decision to the Eagles.
Free State stunned O-North in last year's second round so next Friday's clash at Olathe District Activities Center seems like déja vú.
"(O-North) said they overlooked us last year," Niemack said. "I don't think they will this year."
Torneden agreed, but added: "We'll come out next week with the same mentality we did tonight."
Copyright 2018 The Lawrence Journal-World. All rights reserved. This material may not be published, broadcast, rewritten or redistributed. We strive to uphold our values for every story published.