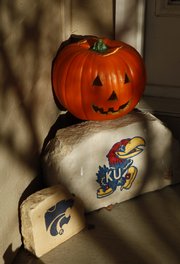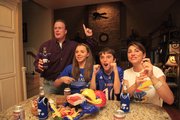 Jayhawks or Wildcats?
Who's going to win Saturday's Sunflower Showdown?
Bryan Brubeck: "Well, Jayhawks of course."
Beth Brubeck: "I hope the Wildcats. But the way they both have been playing this year, who knows?"
Kathy Gaumer: "I'm going to go with KU. I think it will be a battle until the end. I am just a little worried. They're kind of on a roll."
Doug Gaumer: "I think KU has better talent. But you can't count K-State out this year because I do think Coach Snyder has that intangible. It will be much more competitive than in games past."
Kansas State University graduates know they're outnumbered in Lawrence. And for two Wildcats who live here in a "house divided" — with a spouse who graduated from Kansas University and children who cheer for the Jayhawks — home is little comfort.
When Saturday's football game between KU and K-State kicks off, Doug Gaumer will be cheering for his 'Cats while his wife, Kathy, and their children, Alexa, 15, and Austin, 11, root for KU.
"I have to watch in a separate room," he says. "I'm the lone one in the family. "
He and Kathy moved to Lawrence in 1995, when Alexa was just 9 months old. The couple met in Wichita in 1991 and were married two years later. Overall, Doug says, being a Wildcat in the home of the Jayhawks is all right.
"It's a pretty good life, except for a couple times of year, especially lately," he says. "It can be pretty painful. I enjoy the rivalry. "
And Doug admits he's usually cheering with the rest of the family.
"I'm a pretty big KU fan except for when they're playing my alma mater. After 15 years, I am pretty much a convert. In my ideal world, both teams would do well."
Of course, there were some efforts to influence the kids' loyalties in a family where both parents are self-proclaimed sports fans.
"I'm sure I have a picture of my daughter in a little KU cheerleading outfit when she was 2 or 3," says Kathy, who earned undergraduate and medical degrees from KU. She says Alexa and Austin have been Jayhawk fans "all their lives."
Doug, who earned a bachelor's degree in business and marketing from K-State, recalls a few trips to Manhattan with the kids.
"When they were younger, they would accompany me to K-State football games, and we always had a good time," he says. "But I've lost them. They are definitely Jayhawk fans."
Their children are active in competitive sports and have attended summer camps at KU. Alexa, who has played basketball since she was 4, especially enjoys attending Jayhawk women's volleyball and basketball games. The family also has season tickets for football games and attends some men's basketball games at Allen Fieldhouse.
"They've been influenced by KU's success in both sports," Doug says. "Growing up here — that's been the key."
As Kathy notes: "I guess that's the hazard of living in Lawrence. They would both love to go to KU."
Time has mellowed the Sunflower State rivalry for Beth and Bryan Brubeck, who married in 1999 and have two sons, Andrew, 7, and Nicholas, 5.
Bryan grew up in Lawrence and continued his education at Mount Oread, while Beth was raised in Overland Park and decided to attend K-State after her brother went there. After both had graduated from college, they met while playing volleyball in Kansas City and married in 1999.
Their wedding included a groom's cake with a Jayhawk and Wildcat facing off in the middle. In the early years of their marriage, the in-state rivalry typically didn't provide much of a contest because of K-State's football dominance and KU's basketball prowess.
"During football season, I'd say, 'Ha ha. Your team stinks,' and he'd say, 'Just wait 'til basketball,'" says Beth, who graduated in 1994 from K-State with an education degree and witnessed the football team's first progression under Bill Snyder.
But Bryan, who earned a degree in business administration and accounting from KU, notes the games between the in-state rivals have become more competitive — and interesting.
"Now it's pretty even," he says.
And thanks to eight years of living in Lawrence, Beth admits she has learned to cheer for the Jayhawks because her boys are growing up as KU fans.
"I'm kind of into the Jayhawk territory. They like it so much," she says. "I'm losing my purpleness."
The couple have KU football season tickets, although they have yet to take their sons to a game at Memorial Stadium.
"It's been more of an escape for mom and dad," Beth says. "But they did just start asking this year if they could go."
And at a KU basketball game, Beth realized how much her husband and sons have influenced her.
"It was sad that I knew more of the KU players than the K-State players because of living here," she says. "I'm turning more KU-ish."
But it's not all take, according to Bryan.
"I've gone to my share of K-State football games," he says. "I'll cheer for K-State unless they're playing KU."
On Saturday, as the couple watch the game on TV and cheer for their alma maters, Beth knows she'll be outnumbered in the house.
"But I do wear my purple anytime KU plays K-State," she says.
Copyright 2018 The Lawrence Journal-World. All rights reserved. This material may not be published, broadcast, rewritten or redistributed. We strive to uphold our values for every story published.