Photo Gallery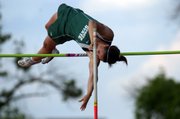 6A regional track meet
Overland Park — He already had qualified for next week's high school state championship track meet in two events with personal records, but that wasn't enough for Lawrence High senior Ben Wilson or his coach, Jack Hood.
"Find a way to go to state," Hood hollered at Wilson, who was at least 10 meters out of fourth place in the 800 meters late in Friday night's Region 2 meet at Shawnee Mission North District Stadium on a beautiful night for running, throwing and jumping.
Wilson found a way, sprinting to earn the fourth and final qualifying spot by a nose. A minute later, Wilson dropped to the ground, clutched his left leg and breathed heavily.
"What hurts?" Hood asked.
"Everything," Wilson answered.
Wilson placed second in the 1,600 with a 4:28.47, ran a leg of the 4x800 relay team that qualified for state and kicked his way to a 1:57.92 in the 800 meters. Fifth-place finisher Cordi Pascal, of SM West, finished in 1:57.93.
"Overall, we've had a great day," Wilson said of LHS. "We're going to have a lot of kids on the bus going to state and that always makes for a more fun trip."
Wilson will compete against teammate Roy Wedge (third, 4:28.55) in the 1,600, and in the 800, will run against Free State senior JD Wiebe, who shaved a second-and-a-half off his personal best with a 1:56.91.
Earlier in the night, Free State junior Drue Davis qualified for the state meet in two events, finishing second in both. She burned through the 100-meter dash in 12:46 and set a school record in the pole vault by clearing 11 feet. The event was a good one for city athletes. Free State's Zach Mehl finished first in the boys pole vault (13-06) and Will Pendleton of LHS finished second (13 feet).
Smiles weren't difficult to find at the meet. After LHS junior Whitney Demby won the triple jump (34-03), she was standing near the pit when senior teammate Louisa Hussein came up to her, flashed a grin and said, "I'm going to state!"
"So am I!" Demby said, matching her smile. Demby also qualified in the 100-meter hurdles with a time of 15.59, second-best of the night.
Hussein said of competing in the state meet for the first time: "It's really exciting. It's kind of surreal. It's going to be so different because everybody there is going to be good. It will be like bring your A game or go home."
Lawrence High senior Chebon Dawes placed first in the discus (150-09) and second in the shot put (52-10). Freshman Blake Hocking of LHS was in line to earn the fourth qualifying spot until Free State senior Colter Scott responded to his coach's challenge and bumped him out of the state meet.
"My coach said, 'You've got a freshman in front of you and you don't want that to happen. You want to get back to state and advance farther' '' Scott said.
On his second-to-last attempt, Scott let out a loud grunt and put a personal-best 51-01.5
"It was really quiet around the ring, and after I grunted, it got a lot of people pumped up and there were a lot of good throws after that," Scott said.
Chris Smith placed second in the javelin with a throw of 190-01 for Lawrence High, which placed second in the boys' team standings.
Overall, it wasn't a great night for Free State, which finished last in both the boys and girls team standings, but the 4x800 girls relay team excelled, knocking 30 seconds off its previous best time with all four runners setting personal records. The team finished fourth in 9:47.22. Hayley Francis had a 2:21 split and gave an assist to her father, Kansas University soccer coach Mark Francis.
"I needed new spikes for my spikes and I went to Francis Sporting Goods (Thursday) night and it was closed," Hayley Francis said. "So I asked my mom if she wouldn't mind going to Francis Sporting Goods and she went."
The spikes were screwed on so tight that they broke off when an attempt was made to remove them. Hayley's dad, who had just gotten off a flight home from a recruiting trip, made it home in time to drill the broken pieces out of the shoes without stripping them and screwed in new spikes. Mark and wife Tiffany drove to the meet in time to hand the shoes to Hayley, who made sure the family teamwork was not for naught.
Copyright 2018 The Lawrence Journal-World. All rights reserved. This material may not be published, broadcast, rewritten or redistributed. We strive to uphold our values for every story published.