Bennett's books
"The Passage" and "Picking Up the Pieces," by Curtis Bennett, are available at The Raven Bookstore, 6 E. Seventh St., Signs of Life, 722 Mass., and The Community Mercantile, 901 S. Iowa.
-->
-->
'Coming to an End'
I do not know how you made it
Yet another week, still alive,
Still sleeping, resting comfortably.
I don't want this to end,
I don't want you to go,
But know the human body
Has limitations; has end-points,
And you will be going soon.
This may well be our last time
To touch fingers, hear horns,
For me to hold your hand,
To bury my tears in your bed.
For I know I am losing you,
And don't know what to do!
I want you to stay...
Please...just a little it longer...
— From "The Passage" by Curtis Bennett
-->
-->
Curtis Bennett reads his poems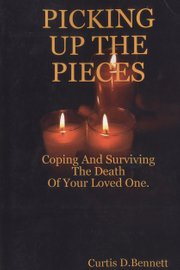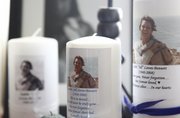 Death.
The word is so familiar, the concept, too, but the act of it, the actual dying part, is something most want to keep so far away that it's nothing but a fuzzy blip in the background. There, but out of the way of everyday life.
So what does one do when death comes into focus, so close to your eyes that it's impossible to avert them or close them without the image burned into your retinas?
Curtis Bennett needed the answer to that question. And he couldn't find it. He searched up and down until he decided the only way to get it answered was to do it himself.
The result is two books of poetry the 67-year-old Bennett self-published: "The Passage" and "Picking up the Pieces." Written at the side of the deathbed of his beloved wife, Judith "Jill" Loven-Bennett, 67, the books are raw manuscripts of the kind of pain Bennett wouldn't wish on the devil himself.
"It's like cutting off half of your body. We were together for 30 years. And when that leaves you ... it's not fun. It's the hardest thing I've ever done. Ever," Bennett says. "And there's no way that you can prepare for it."
Passing on
Death came to Loven-Bennett on Oct. 7, 2008. It was sudden no matter how expected it was. She died in hospice care days after being rendered unconscious after a severe bronchial attack that deprived oxygen from her brain.
Though his wife had been sick with breathing problems for the two years previous, Bennett hadn't been planning to lose her. As the attack came on, he got her into the car and raced to Lawrence Memorial Hospital from the couple's North Lawrence home. It had been a ride they had taken many times, with Jill coming out OK.
"From here to Lawrence Memorial is six minutes and 20 seconds, going real fast and disregarding stop signs. And when she would have these attacks come on, I could get her in there," Bennett says. "Everybody tried their best, but it wasn't enough and she left. It's not that it was unexpected, but it was so sudden. Just crash and burn."
Grief encased every thought pacing through Bennett's mind. It wasn't a new sensation — a Vietnam veteran, Bennett had seen more death than he cares to remember.
"In Vietnam, you weren't close to people. You learn not to get close. You kept a distance. That way when something happened to them, it was OK because it wasn't you," he says. "And you could go past it quicker. You didn't dwell on death. ... 'He was unlucky and I wasn't' — that's the way it works."
Never had death been so close — even his parents, married 70 years, are still alive. And though Jill was still alive, she didn't show it much beyond the forced up-and-down of her chest. So as a longtime writer of poetry based on his Vietnam experience, Bennett began recording his final days with his wife in poetry and journal form.
"I journaled every day, and as things happened, they went right out onto the paper," he says of his 14 days by her side. "It wasn't like I got home and reinvented them and got to thinking about them."
The legacy of Jill
Mementos of their life together are everywhere within the home the couple shared. Bookshelves are lined with Jill's favorites. "Tree spirits" she made out of bark and jeweled plastic sit on a table out by the garage. Parts of the house remain unaltered from the last time Jill saw them with her own eyes. In the living room, candles with her likeness — gifts Bennett gave to her friends after her passing — line a credenza.
But the greatest mementos are the books, which are filled with pictures of Loven-Bennett's life. Jill in a bikini, reeling in a catch. Jill with her daughter. A young Jill, looking every bit a teenage beauty. Next to the photo of the young Jill is the poem "Facing Death." The first stanza reads:
It is something we all will face,
It will happen and there is no escape.
So why are we in such denial?
Pretending it can never happen to us,
Only to others?
And that, as he approaches his first Memorial Day without his loving wife, is one thing she has given Bennett after her death: An answer, a truth to his mortality, as difficult as that may be.
"The hardest thing was accepting the death. Because once I accept her death, I accept mine," he says. "Because of our age, because of our experience. And that's not a fun moment, to sit there and say, 'Oh, one day I'll be dead, too.' As we all will be."
Carma Glas, a friend of Loven-Bennett, says that as hard as her friend's death has been to accept, through Bennett's poetry it has been increasingly easy to see how loved her friend was in life.
"I actually have read the two books," Glas says. "You can tell that he loved that woman so much. It was just unbelievable. And also you can sense his loss. And his missing her. And just how blessed he was to have her in his life. That's what I felt when I read it. He was just so blessed to have her in his life. And also she was blessed to have him as well."
Copyright 2018 The Lawrence Journal-World. All rights reserved. This material may not be published, broadcast, rewritten or redistributed. We strive to uphold our values for every story published.