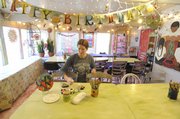 It's your child's birthday. Time for some cake, presents, fun and games ... and then hit "repeat" 365 days later.
Birthdays come once a year, but with little or no cost in Lawrence, they can be anything but part of the yearly routine. Places in and around the city provide the birthday fun without the hassle or the same-old, same-old.
What about marking the passage of a year with something you can still have when your child has doubled in age? That's the idea at Sunfire Ceramics, 1002 N.H.
When Cheryl Roth opened shop in 1997, she did so knowing she wanted parties to be a piece of her business. With birthdays in mind she added a room onto her building, a 1927 Phillips 66 station, especially for parties. She throws them for free, with parents just needing to book a room and bring in the kids, cake and presents. The only charge is for the pottery and paints, but even then, there's a discount. It can make for a unique party experience, she says, and it's not just because of the end product.
"It's interesting because they get concentrating on the painting, and so it's a really calm party ... I've had the parents say, 'Wow, this was so nice, it was so calm.' They do tend to get in to the painting and just have a good time and all that," Roth says.
Across town at the Lawrence Indoor Aquatic Center, 4706 Overland Drive, kids can pretend it's summer any time of year with a pool party. Meanwhile, parents can feel like they're at a vacation rather than a party: For a fee, everything can be taken care of, from the invitations to the cupcakes.
"Pools are fun," says Jai Hoyer, aquatic programmer for the center. "With our birthday party packages, the parents don't have to do any work. It's a very convenient option; we have the whole room set up for them."
Packages range from $80 to $260 and include a minimum reservation of a special party room, pool admission, drinks, dessert, place settings and balloons.
For the outdoorsy types, and those with warm-weather birthdays, there are the fresh air locations of Pendleton's Country Market, 1446 E. 1850 Road, and Vinland Valley Nursery, 1606 N. 600 Road, in Baldwin City.
At Pendleton's, if the party is during business hours, kids can roam the corn maze, paint pots and play volleyball for free. Nighttime parties are also available for a fee and can include hayrack rides and bonfires for an extra cost, says Karen Pendleton, co-owner.
At Vinland Valley, parents can use the little kids area in the barn and paint pots, play bocce, view the pond and check out the chickens and a mother woodchuck, says Amy Albright, co-owner. The only fee is if the parents chose to have the children paint pots, says Albright, who then just charges them for the pots and supplies. She says that the nursery started offering birthday parties last year after a chance encounter.
"One mom said that her daughter asked specifically to have her party here," Albright says. "And that's actually when we decided to put it on the Web site — that people were welcome to do that."
Copyright 2018 The Lawrence Journal-World. All rights reserved. This material may not be published, broadcast, rewritten or redistributed. We strive to uphold our values for every story published.