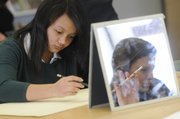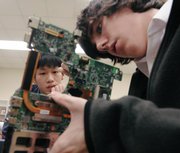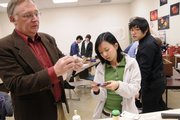 While the sagging economy is raising worries and lowering corporate profits, it doesn't seem to be affecting enrollment at private schools in Lawrence.
Don Schawang, head of school at Bishop Seabury Academy says enrollment is climbing at the academy, where 113 students are enrolled in grades seven through 12 this year.
"We're growing across the board," says Schawang, who expects the number of students at Bishop Seabury to climb to 120 in the fall, including transferring students from other schools and incoming seventh-graders. "We see no effect on our enrollment."
Bishop Seabury is a college preparatory school that has been open for 12 years and in 2003 moved to its current location at 4120 Clinton Parkway. Tuition for the 2008-09 academic year is $9,650, and Schawang says financial assistance is offered to more than 25 percent of parents.
About 10 percent of the school's operating budget is committed to scholarships that provide tuition assistance, he says.
While the global financial concerns are a reality, Schawang says, "Education is very important to people, and that's the last thing they will consider skimping on."
Across town at Veritas Christian School, administrators also expect enrollment to hold steady for the upcoming school year.
"We're not hearing of any mass exodus," says Jeff Barclay, who stepped down as the school's administrator two weeks ago. says. "Obviously it's difficult not to talk about it. But I'm not hearing of anybody pulling out because of money."
The school, 256 N. Mich., has 140 students in kindergarten through 12th grade and offers a part-time class option for about a dozen home-school students. Monthly tuition rates for 12-month payment plans at Veritas range from $255 for half-day kindergarten to $500 for high school, and families get a percentage discount for each additional child enrolled.
Veritas, a private Christian school that isn't affiliated with a particular church or denomination, also offers tuition assistance to some students, Barclay says.
"We take 6 percent of our total tuition dollars and put that in a financial aid pool," he says. School officials also solicit contributions for a financial aid fund.
While Barclay doesn't expect Veritas to offer additional financial assistance because of economic concerns, he says school leaders will be "actively soliciting" for the financial aid fund and have hired a development director to boost fundraising efforts.
He says the school, which originated as Douglas County Christian School 27 years ago and became Veritas in 2004, is on solid financial footing thanks to its cash reserve and building fund.
Barclay also serves as director for the school choice movement in Kansas, but he doesn't expect the group's push for tax credits for parents of private school students to gain much traction this year in the Legislature due to the poor state budget situation.
Copyright 2018 The Lawrence Journal-World. All rights reserved. This material may not be published, broadcast, rewritten or redistributed. We strive to uphold our values for every story published.