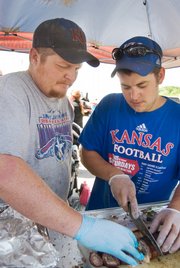 There are two very apparent things the Crimson & Blue BBQ Crew are passionate about: their love of the Kansas Jayhawks, as evidenced by their name and their Jayhawk-emblazoned tent and shirts, and their love of barbecue.
When Tim Flory and Chris Chambers, the crew's founding members, entered a barbecue competition for their church last year, there was something about the process of slowly smoking meat that struck a chord with the Lawrence residents, so they decided to take it to the next level.
"We bought a smoker and decided this winter that we were going to start practicing," Flory said. "And so far I think we're doing really well for a first-year team, so we're pretty happy."
On Saturday, the Crimson & Blue BBQ Crew and 45 other barbecue teams heated up their smokers to compete in the 18th annual McLouth BBQ Blowout. The competition is the Northeast Kansas State BBQ Championship, sanctioned by the Kansas City Barbecue Society.
Each team spent time Friday night and all Saturday morning preparing for the six different categories: Sauce, sausage, chicken, ribs, pork and beef brisket.
There were 42 judges grading each team's dish based on a scale of one to nine, with nine being the highest. The judges base the score on the appearance, taste and tenderness of each team's entry. There were six judges certified by the KCBS.
Doug Walbridge, a member of the McLouth BBQ Blowout committee, has been a part of the competition since the beginning. He said that while he had a lot of fun being a judge for 15 years, it wasn't as easy as people think.
"You can eat up to six pounds of meat as a judge … and I've eaten it before, back in my younger days," Walbridge said.
He said he stopped judging about three years ago because of some health problems, but he still likes to taste samples from the different teams.
This year's top winner of a $1,000 and a trophy was Rubbin' It and Lovin' It BBQ, a team made up of Kerk Farthing, Shawnee, and Chris Theis, Lee's Summit, Mo. The two men, along with Theis' son Luke, compete in about 18 events a year. In just their third year as a team, this was the fourth time they've been named grand champions at a barbecue competition. They were also the 2008 McLouth BBQ Blowout grand champions.
Theis said that unlike some teams, they don't start until the morning of the event and cook everything hot and fast.
Farthing said it also helps that they are slowly perfecting their techniques for the different entries.
"Last year I said we finally learned how to cook pork," Farthing said. "This year we were have trouble cooking brisket, but we got over that hump and figured it out."
The men said they would be back next year and try to win for a third year in a row.
In the end, the Crimson & Blue BBQ Crew took seventh place overall and got fifth place for their ribs.
Flory said he was very happy with the results because it is only their fourth competition.
"A top 10 finish in a sanctioned event is really good," Flory said. "We are totally stoked, and we'll be back next year."
Copyright 2018 The Lawrence Journal-World. All rights reserved. This material may not be published, broadcast, rewritten or redistributed. We strive to uphold our values for every story published.