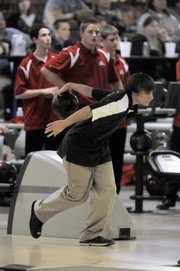 Ho-hum. Another 660 three-game series from Rob Wagner.
The Firebirds' top boys bowler actually seemed less than thrilled with that tally Thursday afternoon despite its ranking as the best three-game score of any bowler at Royal Crest Lanes, six pins better than Olathe North's Ryan Engle.
"I've been around 220 (per game) all year, so I'm right at it," Wagner said. "It feels good, and it's like, 'Eh.'"
Ho-hum.
"I said, 'Your ho-hum 660 puts you in the dungeon tomorrow,'" Free State coach Anita Carlson joked. "It's actually really good, but it's all relative. His expectations are a 680, 700. But it's not real ho-hum."
Unfortunately, Wagner needed that 700 series on Thursday. His work wasn't quite enough to get the Firebirds over the top at their Free State Triangular. The Eagles swooped in and took first place with a stellar team effort, particularly in the tenth frame of the last game, to win by 30 pins, 2,554-2,524.
"When you have a great finish like that, it's hard to beat, especially when it's close," Carlson said.
Wagner admitted beating the Eagles was a top priority. Still, it was hard to find fault with any of the Firebirds, who put out perhaps their best team effort all season.
Joe Vannicola, Aaron Bernhardt and Connor Kring each joined Wagner with a 600 series. And all six varsity bowlers, including Justin Walthall and Andrew Schoneweis, rolled well over 200 in the final game.
"After we got all the cobwebs shaken off in the first game, we did really good and just really supported each other," Vannicola said.
On the girls' side, Free State received quite a boost from the return of Amelia Firns-Hubert, who rolled a 475 series — second on the team behind only Free State No. 1 bowler Christina Picicci's 517.
But the Firebirds came up just more than 100 pins short, finishing in second place just like the Free State boys. Olathe North's girls topped Free State, 1,995-1,887.
Firns-Hubert rolled just her second meet on varsity all season. The first came the day before at the K.C. Piper Triangular. She missed a portion of tryouts in December while recovering from a separated shoulder sustained at the gymnastics state meet in November.
"You have to earn your spot on varsity, most definitely," Firns-Hubert said. "You have to work hard to do it."
Becky Gladman and Michelle Schieffer rolled series of 448 and 447, respectively, to contribute to the team score for the Firebirds.
Lanae Spencer bowled 443 and Gretel Briand — working with a new bowling ball — finished with 431.
"With every outing, we either stay at our average or go up," Carlson said. "The girls, I was really proud of them yesterday as well because they kept their head in the game. That's exciting for me."
Copyright 2018 The Lawrence Journal-World. All rights reserved. This material may not be published, broadcast, rewritten or redistributed. We strive to uphold our values for every story published.