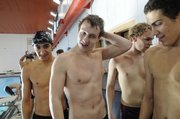 Still soaking wet from the evening's final swimming event, Will Pendleton and Skylar Koerner ventured over to the silver Dell laptop near the entrance of Lawrence High's Knox Natatorium — the laptop with the final team scoring results from Thursday's Lawrence High Invitational.
The Lions' two boys swimming senior co-captains eagerly awaited the two words they hoped to hear next.
"You won," the voice behind the laptop said.
"We did?" Pendleton asked, half not believing what he had just heard. "Woohooo!"
Pendleton and Koerner then joined the rest of their team in celebration, as Lawrence fended off a game Washburn Rural squad in a meet that went down to the final 400-yard free relay event. The Lions out-pointed the Junior Blues, 485-464.
"I wasn't quite sure, you know," said Pendleton, whose team held a slight points lead entering the last event. "The 400 relay looked really good, but you never quite know."
The Lions' relay time of 3:38.80 was good enough for second place overall and beat their previous best by nearly seven seconds. More importantly, it placed LHS two spots in front of Washburn Rural to secure the team victory.
"I just wanted to do really well, and I knew it came down to that last event," Koerner said. "It was kind of a big deal for us to win this meet."
The six-team meet held even more meaning for Pendleton, Koerner and the three other seniors on the squad — Taylor Seratte, Chris Smith and Travis Wick. It was the first — and last — home meet of the season for the Lions.
"It's very special," said Koerner, who will enroll at Kansas University next school year, ending his competitive swim days. "Swimming has been a big part of my life. All my friends know that Skylar swims."
LHS coach Kent McDonald knew the importance of the meet to his two co-captains as well.
"They've been great captains and leaders," McDonald said. "I sure wanted it for them, but they really wanted it. It meant a lot to them."
On top of all the final-event drama, the result also avenged the Lions' home defeat against the Junior Blues a year ago at the same event.
Copyright 2018 The Lawrence Journal-World. All rights reserved. This material may not be published, broadcast, rewritten or redistributed. We strive to uphold our values for every story published.