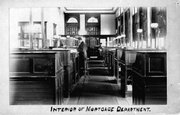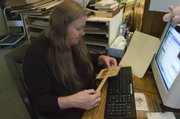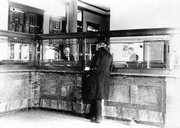 You've no doubt seen the Watkins Community Museum of History on the corner of 10th and Massachusetts streets.
The grand Richardson Romanesque-influenced structure is not one that can be overlooked easily. In fact, at the time of its construction (1885-1888) it was considered one of the most magnificent buildings west of the Mississippi River.
If you are anything like me, you've admired the building, glanced up at the intricate red-tiled roof, appreciated the stone and brick craftsmanship, but might not have taken the time to do more than glance. I was privileged to have Mike Wildgen, interim director, and John Jewell, administrative assistant, lead me on a tour of the awe-inducing structure. Not only is the building a masterful creation in architecture and ornate craftsmanship, but the story of J.B. and Elizabeth Watkins is as stirring as the carved wood, sweeping staircase, stained glass, hidden vaults and chandeliers.
"He was the Bill Gates of the 1880s," Wildgen says of Watkins. "He had a lot of assets of farmland and over 200 corporations. This building is an icon for downtown. With it situated parallel to the courthouse, you have two magnificent structures."
Indeed it is a destination, with details like 45-foot-tall ceilings, 25-foot-wide stairwell, marble mosaic floors, Tennessee marble for wainscoting with Mexican onyx inlay, complicated brass door plates, hinges and keyholes, walls that are up to 24 inches thick and floor-to-ceiling wavy windows that were designed to optimize eastern sunlight. And the phenomenal yellow, curly pine carvings which adorn most of the third floor are truly breathtaking.
The building cost $100,000 to build. But to replace the structure today would surpass a whopping $20 million. Erected to house J.B. Watkins' two major businesses, a land mortgage company and bank. The structure still has details of those uses, from tellers' windows made of ornate ironwork to Watkins' private office. The office has the building's only fireplace and his petite apartment, which is tucked in a sub-attic that still contains the original sink and bathtub.
Off that little apartment is one of the more fascinating walks down the city's historical beginnings with Watkins' private vault, which is full of safe deposit boxes, with various names handwritten on each box. Notable citizens Odd and Skipper Williams managed to save most of the original documents in the vault.
Because of steps like that, the detailed history of the building's construction is laid before us. Watkins was exhaustive about each nuance.
"The story goes that after the roof was put on, that one side didn't match the other and J.B. had the contractor redo the entire roof," Jewell says. "One shipment of tiles was different. It was his intent to put up the finest building in town, and at the time the town folks said he wouldn't succeed because it was too far out of town."
Not only did J.B. succeed, but he flourished. His businesses grew, as did his admiration and eventual love interest in a young secretary in the building, Elizabeth Miller. They worked beside each other and partook in extensive business travel for 30-plus years before marrying. He was 16 years her senior and one of the wealthiest men in the West. Elizabeth was 47 years of age when they married, and she had a good dose of modern sensibility. She longed to become educated at Kansas University, but because her family needed an extra income she abandoned those aspirations and joined the workforce as a teen.
But her desire to better women and educate them for a brighter future was a paramount goal throughout her life. She was a savvy businesswoman, and after J.B.'s death she eventually was at the helm of a huge fortune valued at $2.4 million. She managed the money for 20 years, through the Great Depression and years of vast generosity and philanthropy, and upon her death the Watkins estate had not diminished in value.
The couple lived at the Outlook, which today we know as the KU chancellor's mansion. She built Watkins Scholarship Hall, believed to be the first such cooperative housing arrangement for women students in the nation. She funded Miller Hall, started Watkins Memorial Hospital, donated to Lawrence Memorial Hospital, gave generously to the KU Endowment Association, gave land to house the KU medical facility in Kansas City, Kan., helped to build Danforth Chapel, purchased the bells of the Campanile, and on and on. Her generosity was unbound.
She donated the Watkins Community Museum building to the city in 1929. It served as City Hall until 1970, when it was converted into a museum. The goal of the museum is to preserve the county and city's history.
"Lawrence is an interesting community. One of the major reasons it was formed was political, not economical," says Jewell. "That very fact gives it a checkered history; I think it's important to know where you came from. We are worried today about terrorists. In 1855 and 1856, terrorist attacks were common in this area, with guerrillas and Red Legs and Jayhawkers raiding into Kansas and Missouri. At night you weren't sure what the knock at the door might be."
The museum is a treasure trove of historical facts about our city and county. It is a great way to learn about where we came from and why certain aspects of Lawrence are as we see them today.
— Jennifer Oldridge, a Kansas University graduate, is an avid gardener who previously operated a landscaping business.
Copyright 2018 The Lawrence Journal-World. All rights reserved. This material may not be published, broadcast, rewritten or redistributed. We strive to uphold our values for every story published.