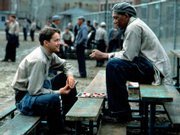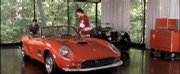 Get busy living, or get busy dying. Surely you've heard that line before. You know, from "Shawshank Redemption"? (Or Shawshank, as those of us who've seen the movie at least a dozen times usually call it.)
You mean you haven't seen it? Wow.
Turns out that nearly 100 percent of Americans quote a movie in conversation. That's according to a survey by a Kansas State University professor out last year.
And he says people get really, really disappointed when they quote a movie only to be greeted with blank stares.
"When someone hasn't seen the movie, that solidarity is broken," psychology professor Richard Harris says. "It's kind of a way to cement in-group membership."
And that makes sense to Daniel Smalley, a Kansas University student from Overland Park.
"The worst is when you might quote a dirty line from a movie, and you just get a blank stare," he says. "They just think you're a total pervert."
Harris found, in his study, that people were genuinely surprised when someone didn't understand a movie quote.
"People quote movies to people they think had seen the movie," he says. "I think there definitely is (a community-building aspect)."
Harris, who himself likes to use the quote "I know I'm not real, but I could learn to be," says he was surprised at just how pervasive the desire to quote from movies is.
"I had no idea it was such an important behavior," he says.
His favorite quote, incidentally, is from an old Woody Allen movie, "The Purple Rose of Cairo."
Smalley, the KU student, agrees that movie quotes can serve to build a sense of community, but he says they can also work to change the direction or tone of a conversation.
"If you're having a serious conversation and you quote something from 'Dumb and Dumber,' you can lighten the mood," he says.
Of course, who knows if you even made it this far.
Bueller? Bueller? Bueller?
AFI's Top-10 Film Quotes
The American Film Institute's top-10 movie quotes of all time:
1. "Frankly, my dear, I don't give a damn."
— Clark Gable, as Rhett Butler, in "Gone with the Wind"
2. "I'm going to make him an offer he can't refuse."
— Marlon Brandon, as Vito Corleone, in "The Godfather"
3. "You don't understand! I coulda had class. I coulda been a contender. I could've been somebody, instead of a bum, which is what I am."
— Marlon Brando as Terry Malloy, in "On the Waterfront"
4. "Toto, I've got a feeling we're not in Kansas anymore."
— Judy Garland as Dorothy Gale, in "The Wizard of Oz"
5. "Here's looking at you, kid."
— Humphrey Bogart as Rick Blaine, in "Casablanca"
6. "Go ahead, make my day."
— Clint Eastwood as Harry Callahan, in "Sudden Impact"
7. "All right, Mr. DeMille, I'm ready for my close-up."
— Gloria Swanson as Norma Desmond, in "Sunset Boulevard"
8. "May the Force be with you."
— Harrison Ford as Han Solo, in "Stars Wars Episode IV: A New Hope"
9. "Fasten your seatbelts. It's going to be a bumpy night."
— Bette Davis as Margo Channing, in "All About Eve"
10. "You talkin' to me?"
— Robert De Niro as Travis Bickle, in "Taxi Driver"
Copyright 2017 The Lawrence Journal-World. All rights reserved. This material may not be published, broadcast, rewritten or redistributed. We strive to uphold our values for every story published.