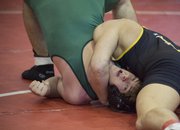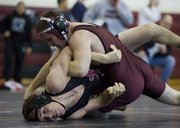 Overland Park — Lawrence High wrestler Reece Wright-Conklin had just witnessed his first opportunity at a Sunflower League championship slip from his grasp a mere 12 seconds from the end. He'd let a senior who placed third at state the year before off the hook on an escape that tied the score at 1. And he'd done it on the center mat in front of hundreds of fans and every other wrestler at the meet.
But Wright-Conklin, just a freshman for the Lions, displayed Saturday that he wrestles with skills years beyond what a typical 14-year-old should possess.
Wright-Conklin seized his second opportunity against Olathe East's David Lalo in sudden-death overtime, scoring a two-point takedown just before Lalo's feet dragged out of bounds for a 3-1 victory and a league title at 152 pounds.
In doing so, he joined LHS senior Blake Greenfield as the only two local Sunflower League champions in their respective weight classes Saturday at Shawnee Mission North.
"If you live in Lawrence in the wrestling community, you know who Reece Wright-Conklin is," LHS wrestling coach Patrick Naughton said. "You knew coming into his freshman year that he was going to be something special."
Now, everybody else knows, too.
Wright-Conklin couldn't even practice with the varsity until winter break. District rules prohibit freshmen from wrestling with varsity until the junior varsity season ends. That has done little to deter Wright-Conklin, who stands at 20-2 with a No. 2 state ranking in his weight class.
Wright-Conklin said he knew all he needed in OT was one good shot for the title.
"I'm pretty good on my feet," he said. "Usually, I'm able to take people down. I'm in shape, so I was able to last in the overtime."
Greenfield, who entered the conference meet ranked No. 5 in the state, earned his title at 140 pounds with a pin just 56 seconds into his final match. He won all three matches Saturday, improving to 21-4.
"We figured it up, and it looks like Blake probably spent a minute and a half on the mat today, and he was here for like five hours," Naughton joked.
For Greenfield, his title was two years in the making. Greenfield placed second at league as a sophomore, but missed the meet last season with an illness.
"I haven't lost to anybody in my league or region yet, so I was pretty confident I was going to be a champion today," Greenfield said.
Lawrence also got top-six placers from three other wrestlers: Chris Lane finished fourth at 119 pounds, Ben Seybert was sixth at 160 pounds; and Dustin Walthall was second at 171 pounds. The Lions placed eighth in the team standings.
Free State High finished last in the team standings at the 12-team meet but received encouraging showings from seniors Jack Caywood at 152 pounds and Julian Kuszmaul at 215 pounds.
Firebirds coach Paul Lappin called Saturday's meet a tuneup for next week's eight-team regional tournament at SM South. There, the top four individuals in each weight class will earn a berth at the state meet.
"I didn't even care how we did here (as a team), I just wanted us to come out and compete," Lappin said.
Caywood had the top Free State result, finishing in fourth place at 152 pounds. Caywood lost his first bout of the day to Shawnee Mission East's Michael Perez, but fought all the way back to reach the third-place match before falling again to Perez, 7-3.
"I kind of panicked and took a shot that I shouldn't have," said Caywood of a rough start to his third-place bout, which found him trailing, 5-0. "I came back up, and I was out of position."
In finishing fourth, Caywood secured his best career showing at the Sunflower League meet.
"He's a great kid," Lappin said. "He'd run through a wall for me if I asked him to. He's been a pleasure to have, and he'll really be missed next year."
Kuszmaul reached the fifth-place match with a victory in the consolation semifinals. But he injured his ankle in that match and opted not to wrestle for fifth.
Kuszmaul initially planned to test his ankle in the match, but decided against it when he tried walking up some steps in the hallway.
"I got about halfway up, and I was like, 'I don't know if this is a good idea,'" Kuszmaul said.
Copyright 2018 The Lawrence Journal-World. All rights reserved. This material may not be published, broadcast, rewritten or redistributed. We strive to uphold our values for every story published.