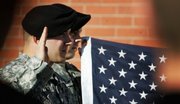 With about two-thirds of students in Junction City calling mom or dad a soldier, teachers use their experiences as military spouses to help students cope with deployments that strain the school system.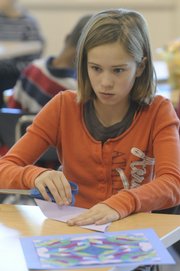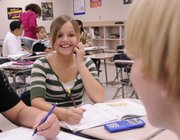 Junction City — When the United States was attacked on Sept. 11, 2001, the seniors at Junction City High School were in fifth grade. Most of the children at Fort Riley Elementary School have never known a world without war.
"Some of the kids that I have worked with talk about then and now," said Dana Wiegnand, a social worker at Junction City High School. "They don't remember then."
Junction City is a town of 20,000 on a good day. Fort Riley, home of the Army's 1st Infantry Division, sits a few miles east, a landmark off Interstate 70 nestled in the Flint Hills.
With roughly 16,000 troops stationed at the base, the children of soldiers make up about two-thirds of the Geary County school system, and most of them are used to the idea of war. It is a fact of life for them and their classmates. It's well understood by teachers and administrators, 35 percent of whom are part of a military family.
The streets of Junction City are lined with street lamps that are draped in banners celebrating the Big Red One, which has two brigades — more than 6,000 soldiers — deployed in Iraq and Afghanistan. In the middle of the city is Heritage Park, guarded by a pair of World War II-era howitzers. The symbols of war are inescapable, even in the schools.
•••
The wars in Iraq and Afghanistan have changed the face of schools near Fort Riley. The nature of deployments means new children will enroll in school when their soldier parent is assigned to the base. Often a family will stay for a few months, until the soldier is sent abroad, then move away to live with other family members. Other soldiers are transferred away from the division, pulling more children out of school. Annually, Geary County schools see about 1,200 students — roughly a third of its enrollment — come and go.
Not that Geary County schools have ever been immune to the workings of the Army.
"In most schools, kids are thinking about dances, this, that and the other," Superintendent Ron Walker said. "We know we have students occupied a lot of times with, 'I'm not sure where my mom or dad is, or what they're doing, or if they're safe.'"
•••
When Walker took over as superintendent of the school district in 2000, it was an opportunity. He took the helm of the eighth-largest school district in Kansas after serving as assistant director of curriculum in Oklahoma City, which boasts about 40,000 students.
Enrollment was flat when he arrived in Junction City, and he was told not to expect many surprises.
Then came 9/11. That brought the battle for Afghanistan, which was followed by the invasion of Iraq. With both theaters drawing on Fort Riley, parents who serve in the military are on call. And so are Walker and his corps of educators.
"Our lives changed forever," he said.
•••
At Fort Riley Elementary School, reminders of the war — and parents who are far away — are everywhere. A glimpse out the window will show the sprawling base, its 19th century horse stables now housing offices, and officers' quarters in flatfront houses, devoid of pageantry.
And on the walls and windows of the school are yellow ribbons, photos of soldiers and their children, and tributes to the troops that are poetic in their simplicity.
"It's just part of our life," says Debbie Ramos, a student support counselor at Fort Riley Elementary. "It's not that we're immune. There's a lot of tears. A lot of times it's very difficult to smile and keep going, but you know you have to do it for the kids. If they see you down about it, then it gives them a reason to start hanging their heads."
Despite the subtle presence of the war, educators in Geary County say schools are a safe place, where stress and worry can take a back seat to learning, support and friendship.
"The plan is to keep the day as normal as possible," said Ferrell Miller, Junction City Middle School principal.
Fort Riley Elementary, like other schools in the district, has "deployment clubs," ad hoc support groups for children of deployed soldiers. With such a high percentage of military spouses in the classroom, students also find empathy in the form of teachers.
"We all feel the same sense of separation," said Terri Tullis, a seventh-grade math teacher at Junction City Middle School, whose husband has flown Medevac missions in Iraq since September 2007.
Tullis, a 1999 Lawrence High School graduate, says the feelings of loneliness and uncertainty can be hard for students to handle: "I realize they're not as equipped to handle it. They have a lack of control. I can control my life. They don't really have that."
•••
The war years offered much promise to Junction City, but have yet to deliver. Popular notions might say that a steady influx of soldiers would boost the economy. But instead, fast-food joints seem to dominate the main thoroughfare. New developments go up, but lay dormant. Housing sales are down, though apartment vacancy is about 5 percent.
A $34 million bond was passed in 2005, and money was used to build a new elementary and middle school. The old middle school was to house high school freshman, but that has yet to happen. The city expected a boom thanks to an Army measure known as BRAC (Base Closure and Realignment), which would bring new troops and their families to the area.
But the buildup presumed the wars would be won, or at least finished, said Charles Volland, the district's communications director. New houses sit unoccupied because the families of soldiers don't stay for more than a few months before troops are deployed for training, or overseas. Often the families of deployed troops move closer to extended family, though the Army doesn't track the percentage of families that move away.
Growth due to soldiers living off base is about half of what it could be, according to a report penned by the Greater Fort Riley Community Partnership.
City Manager Rod Barnes says Junction City is growing, and praises the effects BRAC has had on the area. Apartment units are close to capacity, and the community's population has grown by about 5,000 since 2005.
But a mayor's task force, convened in February 2008, notes the city faces challenges, ranging from a negative image to vacant housing lots that "far (exceed) demand," putting Junction City at risk to pay for parts of $72 million in bonds issued to developers in recent years.
•••
With the uncertainty of war comes a familiarity, an odd sense that this is how it is. There's a certain sense of pride that comes with it.
"Kids are much more resilient than they used to be," Wiegnand said.
"The war's been going on so long, this is half their life," said Andrea Taylor, a counselor at Junction City Middle School.
On a November afternoon, the day before Junction City High School takes on rival Manhattan High School on the football field, there's a pep rally in the gymnasium.
The gym is a sea of blue. Drums pound, horns blast, cheerleaders jump and students are boisterous. Yet, even in this moment, the Army is there. Junior ROTC cadets mix with their classmates. An officer participates in a dance-off between teachers and students, and a recruiter offers smiles to students passing him to find their seats.
Copyright 2018 The Lawrence Journal-World. All rights reserved. This material may not be published, broadcast, rewritten or redistributed. We strive to uphold our values for every story published.