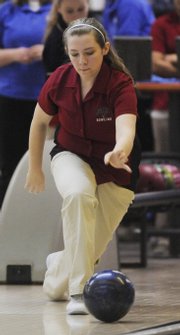 When you lose a bowling meet by three lousy pins, it's easy to look back at the 12 games and 120 frames that just were rolled and find one or two spots where those three pins could have fallen.
Thursday, at Royal Crest Lanes, the Lawrence High boys bowling team picked an unusual place.
"Way to go, Chad," a group of Lions said to LHS sophomore Chad Boyd as the final scores were announced over the loudspeaker. "If you just would have bowled a 300, we would've won."
In many ways, Boyd's teammates were kidding. In some ways they weren't.
For the third time this season, Boyd rolled the high series for the LHS boys, finishing with a whopping 728. He missed a perfect game by one pin and that stingy pin — among others — cost the Lions the team title at Thursday's triangular, which Topeka Seaman won, 2,536-2,533. Washburn Rural (2,443) finished third.
"That's like one more spare," LHS coach Tom Birt said. "Or figuring out one frame earlier where to put your feet on your approach."
And it stung.
Boyd, who has hit the magic 300 mark twice in his life, nearly did it a third time on Thursday. But in the third frame of his third game, he left one pin standing.
"It was pretty much a pocket shot and I was a little mad that it didn't go down," Boyd said. "But I shook it off."
That's putting it mildly. His next 10 rolls cleared every pin in their way and Boyd finished the final game of his series with nine straight strikes for a 279.
Boyd's teammates were equally as impressive. Tanner Kilmer tossed a 642, Matt Weber rolled a 582 and Josh Russell finished with a 581. Despite their strong showing, the rest of the Lions lamented over those three costly pins.
"I opened both my first and second game in the 10th frame on the same pin," Weber said. "I hung the 10 pin."
Weber actually missed the 10-pin with his first ball in the 10th and final frame in all three games. But after missing on his first two tries, he picked up the spare in Game 3.
"I can't put it all on me," Weber said. "It's a whole team effort. But I kind of take the blame for this one. If I get that 10-pin it would've easily gotten us enough pins to win."
Ben Wyatt (561) and Spencer Scott (553) also bowled for LHS. But their series totals did not count toward the team score.
In girls action Thursday, the LHS team finished third with 1,810. Washburn Rural edged out Seaman, 2,184-2,148, for the victory.
The Lions were led by Danielle Husted and Alexah Gudenkauf. Both topped the 500 mark for their series score, with Husted finishing with 561 and Gudenkauf rolling a 533.
Next up for the Lions is next Thursday's quadragular at West Ridge Bowl in Topeka.
Copyright 2018 The Lawrence Journal-World. All rights reserved. This material may not be published, broadcast, rewritten or redistributed. We strive to uphold our values for every story published.