Photo Gallery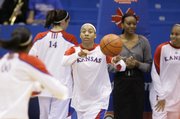 2009 KU women vs. Pepperdine
Welcome back, Sade Morris.
Morris came out of her shooting shell and Kansas University shelled Pepperdine, 82-63, in women's basketball Wednesday afternoon in Allen Fieldhouse.
A 5-foot-11 senior, Morris made 10-of-17 shots and scored a game-high 22 points as the Jayhawks won their seventh straight.
"It was great to see Sade that aggressive," KU coach Bonnie Henrickson said.
Since scoring a career-high 26 points a month ago against Michigan, Morris hadn't scored more than eight points in eight consecutive games.
"I went through a little shooting slump," Morris said. "Thank God for this break. I had time to go in and get some shots up and just get my confidence up."
That re-dedication came about, in part, because of an ear-burning during Tuesday's practice session.

"Everybody has been yelling at her and I'm not the only one," Henrickson said. "Her teammates almost kicked her out of practice yesterday because she wouldn't shoot."
One of the shout-outs came from Danielle McCray.
"I've been playing with her for four years," said McCray, who scored 15 points against the Waves, "and I think she just got tired of coach and her teammates getting on her."
Morris' shooting woes began after the Michigan game when the Jayhawks made their two-game journey to the Bahamas. In back-to-back losses to Xavier and TCU, Morris made just 6-of-23 shots.
Then she stopped shooting, seemingly convinced her teammates — notably McCray — could take care of the point-production. For example, she took the same number of shots Wednesday (17) that she had taken in the three previous games combined.
"Instead of being in the shotgun seat with Danielle," Henrickson said, "she was putting herself in the back seat."
On Wednesday, with Morris and McCray scoring a dozen and 11 points, respectively, in the first half, the Jayhawks raced to a 49-27 lead at the break. KU blew it open by outscoring the Waves, 22-4, during a seven-minute stretch.
Pepperdine (9-5) relies heavily on full-court pressure, but the Waves forced only six turnovers during that fateful first 20 minutes, thanks mainly to KU point guard Angel Goodrich.
"Goodrich is an amazing point guard," Pepperdine coach Julie Rousseau said. "She was in high school. I loved her then and I love her now. She was clever and she was poised and that definitely hurt us."
Goodrich finished with nine points, four assists and, most important, only one turnover during just 21 minutes on the floor as Henrickson used reserves during the last nine or so minutes.
Those reserves more or less were just treading water, hardly distinguishing themselves.
"I wasn't crazy about our bench in the last nine minutes," Henrickson said. "They have to be better."
Overall, though, the Jayhawks (10-2) — Morris, in particular — were on their game.
"Our energy was good, our balance was good," Henrickson said. "Sade Morris is Sade Morris, and she was great."
Kansas will finish the non-conference portion of its schedule at New Mexico State on Sunday afternoon, then begin Big 12 play the following Saturday at Kansas State.
Notes:
• Kansas shot a season-low eight free throws because Pepperdine was whistled for only 10 fouls.
• McCray moved into fourth place on KU's career-scoring chart, passing Vickie Adkins, who is an aunt of current KU players C.J. Henry and Xavier Henry.
• Aishah Sutherland tied her career high with a dozen boards.
• Curiously, KU's first two league games have 11 a.m. tipoffs — Jan. 9 at K-State and Jan. 12 against Oklahoma State in Allen Fieldhouse.
Copyright 2018 The Lawrence Journal-World. All rights reserved. This material may not be published, broadcast, rewritten or redistributed. We strive to uphold our values for every story published.