Photo Gallery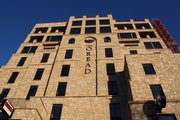 The Cave @ Oread Hotel
The Cave is a sprawling underground nightclub in the bowels of The Oread. Imagine a multi-tiered parking garage that's been converted into the sleekest speakeasy ever, and you've kind of got The Cave.
Past Event
When: Thursday, December 31, 2009, 7 p.m. to 2 a.m.
Where: The Cave, 1200 Oread Avenue, Lawrence
Cost: $40
-->
-->
New Year's Eve party guide
Find all public parties happening in the Lawrence and Kansas City area in our New Year's Eve party guide.
Regardless of your opinion on The Oread and its impact on Kansas University or the larger Lawrence community, one aspect of the soon-to-open hotel/condo development/retail center/dining district/everything-plex on the edge of the KU campus is inarguable: it's freaking huge.
And not just in the obvious, 11-stories-tall-plus-skyscraping-cellphone-towers kind of huge. Inside the limestone monument which is now one of Lawrence's most prominent skyline fixtures (although Fraser Hall, just up the road on Jayhawk Blvd., still officially holds "Lawrence's Highest Point" honors) is a vast network of interlocking hubs.
Everything is burnished with mahogany-colored marble and brass work, lending it the feel of an upscale ski resort. Restaurant bleeds into commons area, commons area bleeds into day spa, day spa bleeds into book store, book store bleeds into another restaurant, and virtually everything bleeds into a bar. All of this, mind you, is just in the lobby. Never mind the suites and apartments and ballrooms and terraces folded into the building like a Japanese puzzle box. Seriously, this place is freaking huge.
Adding to the literal depth of The Oread are four subterranean levels, dug deep into the mountain after which the behemoth is named. Unlike the rest of The Oread, which you can see from virtually any vantage point in Lawrence, this bunker is almost invisible to the outside world. Were it not for a nondescript little sign on the west side of the building, a passer-by wouldn't even know The Cave existed.
The Cave (or "CAVE" as the sign reads) is a sprawling underground nightclub in the bowels of The Oread, and it's quietly been open for a few weeks as the rest of the "premier multi-purpose venue" races to make its early January opening. Imagine a multi-tiered parking garage that's been converted into the sleekest speakeasy ever, and you've kind of got The Cave.
"It's a unique experience to Lawrence," says Mike McHugh, general manager of The Cave. "Just in terms of the sheer scope and size of the bar, there's nothing in town that can compare. From audio-visual technology all the way through bringing in specific liquors into town, it's something Lawrence hasn't seen before."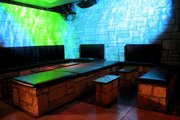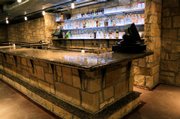 Hot pocket
The Cave isn't really one club but a series of "pocket bars" scattered throughout the four sub-levels. After entering through the side door you're led through the actual parking garage to the entrance, adding to that speakeasy vibe. As you descend concrete stairs "Dante's Inferno" style, you encounter a wine bar, a shot bar, a cocktail bar and finally the dance floor. All the rooms have a chic granite and stone decor that's bathed in shimmering liquid light effects, but each is laid out to suit its particular poison and purpose. The Cave, much like The Oread at large, is attempting to cater to all patrons at once.
"We want The Oread to be a place for everybody," says Nancy Longhurst, general manager of The Oread. "There are so many different things to do here it is its own little community. One facet we can offer to the student community, as well as the community in general, is a high-class nightclub facility."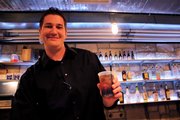 And high class translates to high tech. To deliver a quality clubbing experience in a bar that's the audio engineering equivalent of a nuclear bomb shelter, heavy duty science was required.
"I developed some new math algorithms for treating sound based on fractals and quadratic diffusion that I use to control sound on the dance floor," says Aaron Edwards, co-owner of Front Row Audio Video, which was tasked with integrating The Cave and The Oread with cutting-edge AV.
"The subs are cleaner and louder than anything you've ever heard. These are the highest fidelity, loudest and most efficient subwoofers made. They're my own invention and I'm working on getting a patent on them. They can reach power levels well in excess of anything that has ever been put into a club before. We have over 26,000 watts of power in here."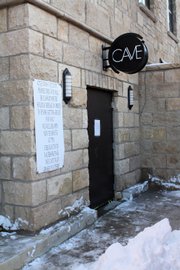 Radical change
The Oread is constantly at the ready to emphasize the possible boon it could be for the community, from its nearly 250 new jobs to its potentially benefiting KU's recruitment efforts, but they realize they still have critics. They're well aware complaints remain about the disruptive construction and hard feelings linger about the radical change to the neighborhood's landscape. The hope is that maybe, just maybe, a decent addition to the Lawrence nightlife might help alleviate some of those hard feelings.
"I totally understand those feelings," says Longhurst. "My response to that is to come in and meet us and get to know our property. Everyone is welcome here. They can eat in our restaurants, stay in our hotel, come down to The Cave. We want everyone here. Everybody that wasn't happy with The Oread going up, we want them to be our friends and feel comfortable here at any time."
Copyright 2017 The Lawrence Journal-World. All rights reserved. This material may not be published, broadcast, rewritten or redistributed. We strive to uphold our values for every story published.