Manhattan — On an overcast winter afternoon, the doors of a greenhouse on the outskirts of Manhattan are the portal to a hot mid-July day. Inside, potted rows of corn stand in 90-degree heat under 12 hours of gleaming light and emit that familiar sugary sweet smell of summer.
But it's not the kernels that will bear fruit for Edenspace, the company that planted the crop.
The company's interest lies in the stalks and leaves, which have been genetically engineered to produce higher levels of sugar. The hope is to find a way to more easily break down cornstalks into ethanol. That advancement, in turn, will make the alternative fuel more cost-competitive.
Edenspace is among more than 30 companies that, in the past five years, have seen a boost in funding from the Kansas Bioscience Authority.
KBA is the organization that some would say has been the portal in the state's journey to become a national leader in biosciences.
More than five years ago, the state Legislature passed the Economic Growth Act, giving the KBA $580 million over 15 years. Since that time, the state has landed a $650 million federal lab, moved from the bottom half of rankings in bioscience-friendly states to the top 10 and helped launch a massive campaign to garner the prestigious National Cancer Institute designation for the Kansas University Cancer Center.
"We've made great progress," said Nick Jordan, a former state senator from Shawnee who with former state Rep. Kenny Wilk, R-Lansing, introduced the bill establishing the KBA.
Early successes
To date, more than $280 million has been committed throughout Kansas, an amount that nears the halfway point of the total expected funding. So far, $33 million of that $280 million commitment has been distributed.
That $33 million has had an impact.
It has generated 1,164 jobs, capital improvements totaling $110 million, research worth $44 million and an equity investment of $29 million.
"We have put some very big points on the board," said Tom Thornton, KBA's CEO and president.
However, the numbers are still a long way from the predictions put forth in the Economic Growth Act, which estimated 20,000 jobs would be created.
Chairman of the KBA board and former Gov. John Carlin said Kansas might hit that mark in 10 to 15 years and once the National Bio and Agro-Defense Facility opens in Manhattan. The facility is expected to generate 1,500 construction jobs and to employ 300 people.
NBAF is at the top of the list of KBA successes — and expenses. The KBA helped form the Kansas coalition to lobby for the $650 million federal lab and cover legal costs from lawsuits filed by another state competing for the facility.
"Without the KBA there wouldn't have been an NBAF coming to Kansas," Carlin said.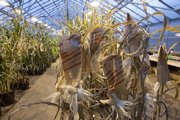 It is a project that has required the most resources from KBA. Most of the $95 million committed will be used to bring in scientists and set up labs in Manhattan to conduct research that can be integrated into the work of the federal lab.
Another major KBA effort has been pushing forward the KU Cancer Center's quest to become a NCI-designated facility. So far, the KBA has allocated $45 million to improving cancer research at KU.
The money will be used for recruiting prominent researchers from across the country and renovating the school's labs, both of which are key to establishing NCI designation.
"Without the ability to do those things, I think our chances of success would be dramatically reduced," KU Chancellor Bernadette Gray-Little said.
Statewide distribution
The vast majority of KBA's money — more than 73 percent — has been handed out to the towns lining Interstate 70 between Junction City and the Kansas-Missouri border.
It's the stretch of road that boasts the state's animal science corridor, K-State, KU and the Kansas City metro area's biotech companies.
The concentration of funds reflects the areas where bioscience advancements are being made. And, it's indicative that the KBA has stayed true to its mission of funding only bioscience-related projects and not handing out money based on politics, Carlin said.
As for Lawrence, more than $14.6 million has been committed to projects in the city. Most of that money is going to KU or companies partnering with KU on research. Around $1.5 million is going to private Lawrence-based companies.
A boost to businesses
One of those companies, Pinnacle Technology, has received $750,000 over the past two years. The money, a 50 percent match to federal funding, gives the company leeway to market its products and build up inventory.
Working with rats and mice, the company develops sensors in brains to measure chemicals and activity. These sensors could one day be used to help people with depression, Parkinson's disease, Huntington's disease, Alzheimer's and seizures.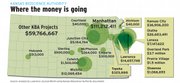 During a time when other companies are slowing down, Pinnacle's sales have more than doubled.
"It has just been a tremendous asset to us," Donna Johnson, Pinnacle's president, said of the KBA funds. "It has allowed us to develop at a pace that on our own, we never could have grown at. And, it has helped us come through the recession."
Ventria Bioscience, a company growing genetically modified rice in Junction City, has received the most funds of any private company. The KBA has committed $4.9 million to attract the company to Kansas, assist in expansion and help spur research.
Three times, the KBA has supported projects at NanoScale, a Manhattan-based company in the business of developing nanomaterials.
NanoScale has developed nanoparticles that will make it easier to detect and then destroy tumors. The company also is creating substances to decontaminate body bags used for humans who have been exposed to biological warfare agents.
If successful, that project could mean a $30 million contract from the Department of Defense to make body bags. But a far greater potential is the substance's application in the medical world. The KBA gave the company $375,000 to study that possibility.
Such funding takes the company's research further than its competitors, said Aaron Madison, vice president of finance and administration.
As for the greenhouse on the outskirts of Manhattan, Edenspace executives said that KBA funding helped persuade them to expand their operations, which were in Virginia, to Kansas. And it helps propel research forward in between the cycles of federal funding.
The KBA has committed almost $650,000 to the company. Edenspace CEO and President Bruce Ferguson sees the presence of his company and others in Kansas as a chance to build a critical mass in bioscience.
"We aren't at a critical mass, but certainly KBA is getting there," Ferguson said.
Copyright 2018 The Lawrence Journal-World. All rights reserved. This material may not be published, broadcast, rewritten or redistributed. We strive to uphold our values for every story published.