Imagine that you clock in to work at 11 every night in a sleep-deprived state. Now imagine that your job is to administer postmortem care to the recently deceased.
"Finding dead people doesn't bother me as much anymore," says Reneé Mellenbruch, a 19-year-old single mom in Lawrence who works the night shift as a certified nurse's aide at a retirement community.
"It's played with my personality a lot, on top of working nights. I usually walk around like a zombie."
On top of working her overnight shift four times a week, Mellenbruch raises her 18-month-old daughter, Haylee, and attends classes at Neosho County Community College. Her job chose her more than she chose it, but she's learned some tricks to get through the night.
"A good diet helps: lots of fruit and natural sugars," she says. "You just have to take it one hour at a time. Four o'clock is the darkest time of the night and the hardest time to stay awake. If you get tired, you can walk around to get your blood moving. Whenever it's cold, you can go outside. You just have to have a positive attitude, and, in my career, a sense of humor."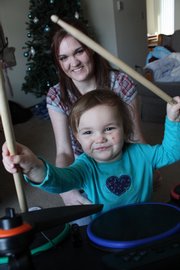 Zombie mom
Mellenbruch can now count herself among the rare species of nocturnal parents who raise their kids in the gaps between waking up in the late afternoon and going to bed in the early morning. For those of us on "normal" sleep schedules, such a scenario sounds like an absolute nightmare. On the worst days, it is.
"Fridays are the hardest, because I get off work at 7 a.m., and I go to sleep from maybe 8 to 11, and then I wake up and go to school," Mellenbruch says. "There's no point in me going to the classes, because everything they say I can't comprehend. … I'm just there for the credit. I can't retain any information, so I just teach myself at night whenever I'm at work."
Mellenbruch sacrificed her body to the overnight shift because it allows her to have health insurance and afford a place of her own. Her health and sanity may suffer, but her daughter is still getting plenty of love.
"I can spend some time with her (when I wake up) and put her to sleep and be up with her when she wakes up," Mellenbruch says. "Luckily I have a great daycare provider, so they help me out a lot."
Mellenbruch first experienced the occasional overnight shift when she was pregnant and doing inventory for her previous job at Icing by Claire's in Dallas.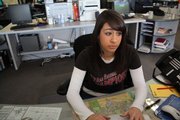 "It's worse working overnights when you actually have a kid, because you can't say, 'I'm going to sleep and you're coming with me,'" she says. "Now it's more like, 'I'm going to sleep. What am I going to do with you?'"
After nearly five months as a zombie mother, Mellenbruch is planning to start a new job with a daytime schedule. She's so excited that she's losing (more) sleep at the thought.
"When I was going into it I was like, 'This is just temporary until I can find something better or get out of college,'" she says. "It was a good option for a while, but I don't see myself doing it long-term."
Motherhood 911
Mellenbruch chose to work overnights, but other young parents, such as Valerie Ortiz, had little choice in the matter. Two years ago, Ortiz was training as a dispatcher for Lawrence Police while raising her newborn daughter, Mishayla. The job required three months of training on the 10:45 p.m. to 6:45 a.m. shift.
"Those three months were a blur," says Ortiz, who now works a day shift as a dispatcher.
"To me, everything was upside-down," she recalls. "I slept while everyone else was awake, and I was awake while everyone else slept. I didn't see my family very much or my friends. I just can't adapt like that. My body is set to sleep at nighttime."
Ortiz says that the hardest part of those three months was having less time with Mishayla.
"It was hard to send her away to daycare and only see her for a couple hours before she had to go back to bed," she says. "I felt like I was missing out on stuff. I would feel bad about sleeping eight hours, because the whole day was gone by the time I got up."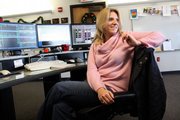 Ortiz's co-worker Lori Alexander also worked the overnight dispatch shift while raising three children in elementary and middle schools. Unlike Ortiz, she found it to be an ideal situation.
"For the children it was great, because I was able to go to school functions," Alexander says. "To me, working evenings sounds worse, because you wouldn't see your kids much."
Ortiz also discovered advantages to getting off work in the early dawn hours.
"Sometimes 7 a.m. is the best time to go shopping, because nobody else is out," she says. "You can get all of your shopping done and get home and get the house clean while the kids are at school. My house was never cleaner."
Of course, there were also disadvantages to waking up at 3 p.m.
"I completely missed 9/11," Alexander says. "I went to pick up my son at school and he was like, 'We're not having football practice tonight because of what happened.' I was like, 'What do you mean?' I was on the TV the rest of the day watching and catching up with the rest of the world."
Copyright 2018 The Lawrence Journal-World. All rights reserved. This material may not be published, broadcast, rewritten or redistributed. We strive to uphold our values for every story published.