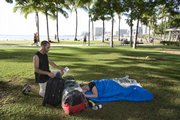 Honolulu — Hawaii public schools are closed most Fridays, rats scurry across bananas in uninspected stores and there may not be enough money to run the next election.
About the only parts of the state untouched by the foul economy are sparkling beaches and world-class surfing.
Hawaii's money troubles are creating a society more befitting a tropical backwater than a state celebrating its 50th anniversary and preparing to welcome President Barack Obama home for Christmas this week.
"There is community energy and outrage building up," said James Koshiba, a co-founder of the activist organization and Web site Kanu Hawaii, speaking about the cuts to education. "The people have to play a bigger role. Folks won't forget how this unfolds come election time."
• Hawaii now has the shortest school year in the nation after the state and teachers union agreed to shutter schools for 17 days a year, leaving 171,000 students without class on most Fridays. Negotiations to reopen them collapsed last week.
• Food establishments often go uninspected, a fact highlighted by an Internet video showing rats roaming freely across produce in a Honolulu Chinatown market. The state has just nine health inspectors on Oahu to handle nearly 6,000 markets and restaurants.
• The state Elections Office said it may not be able to afford a pending special election, which would leave half of the state's population without representation in the U.S. House of Representatives until September 2010.
• Homelessness is on the rise as mental health, child abuse, welfare and daycare programs run short on cash.
And next year may be even worse because tax revenues continue to plunge with the economy.
Hawaii is far from alone in cutting the size of government during the global financial downturn, with nearly every state resorting to across-the-board cuts, furloughs or layoffs to make ends meet. This tiny state of 1.3 million residents faces a projected $1 billion budget deficit through June 2011.
Copyright 2018 The Associated Press. All rights reserved. This material may not be published, broadcast, rewritten or redistributed. We strive to uphold our values for every story published.