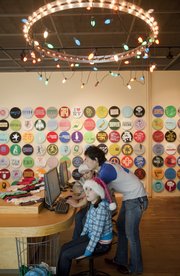 Holiday shoppers filled downtown shops in Lawrence on Saturday, stocking up on holiday gifts in the last weekend before Christmas.
Despite the crowded streets, some shoppers reported cutting back on holiday spending this year due to the poor economy.
Lawrence couple Keith Smith and Cherry Kelly were finishing up some holiday shopping at Hobbs, 700 Mass. Smith said he'd cut his holiday spending in half this year.
"He bought my present at the Dollar Store," Kelly joked.
Although he's spending less, Smith said his money is going a little further this year thanks to some heavy price cuts he's seen at many of the area's retailers.
On the other end of the shopping spectrum was Scott McMurray, doing some last minute shopping at Nomads travel store, 725 Mass.
"I'm actually spending more this year," he said. It was a good year at work, and he wanted to spread the wealth.
"To support the economy," McMurray said of his upped holiday purchasing. "And to turn around the fear."
Several downtown merchants said the negative effects of the economy appeared to be more myth than reality when it comes to this year's shopping season.
"It seems to be more of a topic than an issue," said Brad Parsons, owner of Marks Jewelers, 817 Mass.
Parsons said his store is seeing about the same amount of business this year as in previous years, and he hasn't seen any dip in sales for some of their higher priced merchandise. "There's always people doing well," he said.
Sales have been steady at Hobbs as well, said store manager Shauna Swanson. But she has seen some change in the type of items bought this year. For one, clothing purchases are down in favor of more lighthearted gifts.
"They (customers) would rather find something that makes people laugh," she said.
And shoppers are pickier. "(It seems) more important (this year) to find the perfect gift rather than any gift," Swanson said.
Copyright 2018 The Lawrence Journal-World. All rights reserved. This material may not be published, broadcast, rewritten or redistributed. We strive to uphold our values for every story published.