Photo Gallery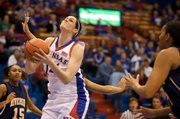 KU vs. UC Riverside
Danielle McCray saved the day.
With her Kansas University teammates in an apparent post-finals funk, McCray scored 30 points, and the No. 22-ranked Jayhawks flicked aside UC Riverside, 75-60, on Sunday in Allen Fieldhouse.
"She should be a little bit weary tonight," KU coach Bonnie Henrickson said of the 5-foot-11 senior. "She carried 14 other people with her."
McCray scored 18 of her season-high 30 points in the first half and might have surpassed her career-high of 35 if the Jayhawks' lead hadn't grown to 26 with about seven minutes remaining. That's when Henrickson took her — and the other regulars — out.
By then, McCray had done her job, igniting the Jayhawks on an afternoon when most of the muskets were misfiring.
"That's what All-Americans do," Henrickson said. "That's what seniors do, and that's what players of her caliber do. Once I recognized nobody was dialed in, we went to her."
Second the motion, said UC Riverside coach John Margaritis. "McCray is unbelievable. She's very good."
Both teams came out of the gate like turtles afflicted with turf toe. With about eight minutes left, Kansas led (yawn), 6-3. Then McCray took charge, scoring 11 straight points and pretty much ending any suspense about the outcome.
"We were quiet, and the fans weren't in it because we gave them no reason to be," McCray said, "so I felt I needed to take over."
Why her team was so mum, particularly on defense, puzzled Henrickson.
"We didn't fly around," the KU coach said, "we weren't loud, and we weren't active."
Among the Jayhawks in a funk was Angel Goodrich. Last time out, the freshman point guard scored a career-high 20 points and was credited with eight assists against Creighton.
Goodrich had five assists Sunday, but she didn't take a shot and was charged with six turnovers. Henrickson sat her most of the second half, saying, "Angel looked out of it."
Perhaps most of the Jayhawks were simply guilty of playing the competition. UC Riverside came in with a 2-6 record, and Henrickson tried in apparent vain to convince her players that four of those losses were to quality teams.
"I told them that (UCR) was a team that wasn't afraid to play people," Henrickson said, "but I don't think we responded to that."
Her bench certainly didn't respond during the last seven or so minutes. UC Riverside outscored KU's reserves 16-5 during that span, and the final score made the outcome look more competitive than it really was.
Kansas (8-2) has one more game before the holiday break. The Jayhawks will play Tuesday at Houston University.
"We were so soft and lackluster," Henrickson said, "and we can't be that way Tuesday night. We've got to be better in 48 hours."
Notes
• Kansas posted a glaring 45-23 advantage on the boards. McCray had eight rebounds. Aishah Sutherland and Krysten Boogaard added seven apiece. That plus-22 carom advantage was the best by a KU team in the last seven years.
• Curiously, the Highlanders had more assists (18) than the Jayhawks (12).
• Marissa Rivera led UC Riverside with 21 points, nine coming during the last seven minutes with KU's starters on the bench.
• KU transfer Marisha Brown logged 16 minutes and recorded career highs in points (five) and rebounds (four).
Copyright 2018 The Lawrence Journal-World. All rights reserved. This material may not be published, broadcast, rewritten or redistributed. We strive to uphold our values for every story published.