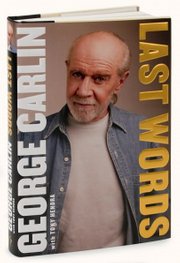 In 1987, when he was 50 years old, George Carlin decided the time had come for an autobiography from the groundbreaking comedian who had famously said "The Seven Words You Can Never Say On Television."
Five years later, Carlin was 100 pages along, only up to age 6 and beginning to realize that if he lived another five years (not all that likely given that he'd already suffered a few heart attacks), his book would be at least a thousand pages long.
So he turned for help to his friend Tony Hendra, the former National Lampoon editor and author of the best-selling memoir "Father Joe." The pair recorded more than 50 hours of conversations over the next 10 years and were still working on the book's text when Carlin's fifth and final heart attack killed him last year at age 71.
The result of their efforts, "Last Words" (297 pages, $26.99), reads much like a Carlin routine always sounded. It's fast-paced, at times outrageously funny, always filled with four-letter words and, if it begins to drag a bit here or there, you hang in anyway because you know Carlin will be back on track in a minute or so.
He takes the reader in chronological order from the earliest days of his childhood in New York City's Morningside Heights, then a rough-and-tumble white neighborhood adjacent to the black section of Harlem, up to just a couple of years before his death.
Overall, to the serious Carlin fan at least, there are few surprises here, as much of what's in the book he has made reference to in interviews or routines over the years.
His famous 1972 arrest in Milwaukee for saying the seven words is recounted in a straightforward manner here, albeit with some additional details: He avoided a much more serious bust, Carlin reveals, by handing his jacket, which was filled with cocaine, to a pair of musicians as he left the stage.
Later, the judge who dismissed the indecency charge against him was seen laughing in open court as he listened to a recording of the routine.
He does throw in a few surprises, including that his mother, when she was pregnant with him, had planned to have an abortion until her dead mother came to her in a vision and dissuaded her. Later, Carlin would talk his wife into an abortion, saying they couldn't afford to support a second child after their daughter's birth.
But while he could skewer people's religious beliefs and their politics relentlessly on stage, Carlin is almost always gracious when he talks about the many comedians and Hollywood figures he came in contact with over the years.
One of the few exceptions is "Saturday Night Live" creator Lorne Michaels (Carlin hosted the show's first episode), who is dismissed in words (no surprise) that can't be printed here.
But Carlin goes on to reveal that his true dislike for shows like "Saturday Night Live" has less to do with the people who make them than the snooty, no-outsiders-allowed group mentality that they foster.
"Groups of three, five, 10, 15 — suddenly we have special little hats, we have arm bands, we have a marching song, a secret handshake and a list of people we don't agree with," he writes.
"An audience is the only group I can tolerate," he said, "because the audience wouldn't be a group if it wasn't for me."
Copyright 2018 The Associated Press. All rights reserved. This material may not be published, broadcast, rewritten or redistributed. We strive to uphold our values for every story published.