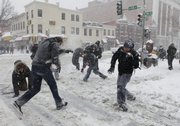 Washington — A blizzard-like storm rocked the Mid-Atlantic and Northeast on Saturday, crippling travel across the region and leaving hundreds of thousands of customers without power.
Five deaths appeared to have been caused by the storm system, which stretched from the Carolinas north to New England and also spread into some Midwestern states. The 16 inches of snow that fell at Reagan National Airport outside Washington was the most ever recorded for a single December day, while about 16 inches had also fallen in Philadelphia.
Those who did venture out were treated to nearly desolate stores on what is usually one of the busiest shopping days of the year. There were virtually no lines to get a picture with a mall Santa on the last weekend before Christmas.
The National Guard used Humvees to rescue stranded motorists in Virginia and some 500 people had sought warmth and refuge in emergency shelters.
"The snow has not stopped falling, the storm isn't over, and folks should not think this is crying wolf," said Laura Southard, a spokeswoman for the Virginia Department of Emergency Management.
More than two feet of snow have fallen in some areas since Friday. Thirty inches of snowfall was reported in Wintergreen, Va., at the foot of the Blue Ridge Mountains outside Charlottesville. In the nation's capital, public transportation nearly ground to a halt, but it wasn't enough to keep senators from staying in session to debate proposed health care overhaul.
The slow-moving storm was headed to the Northeast, where forecasters said parts of Connecticut, Rhode Island and Massachusetts could see more than 16 inches by tonight. Forecasters expected the storm to drop as many as 10 inches on New York City.
Snowplows cleared the runway at Andrews Air Force Base in suburban Washington as President Barack Obama returned from climate talks in Copenhagen. The White House said Obama rode in a motorcade back to the White House, instead of taking his helicopter, because of the conditions.
The region was virtually a sea of white. The Smithsonian Institution closed its museums, and the National Mall, which normally would be swarming with tourists, instead was the scene of snowball fights and cross-country skiers.
For Chris and Kelly Fitzpatrick, who were visiting from Clearwater, Fla., the winter wonderland came at the perfect time.
"It's her fault that we're out so long. She wants to walk and walk and walk," said Chris Fitzpatrick, 38.
In western Virginia, officials said several hundred motorists became stranded and had to be rescued by four-wheel-drive vehicles.
Virginia State Police spokeswoman Corinne Geller said traffic was moving, though slowly. There were reports of jackknifed tractor-trailers and some semis on their sides. Troopers had responded to more than 4,000 traffic crashes and disabled vehicles.
Mayors in Washington and Philadelphia declared snow emergencies and forecasters said the conditions could worsen. Governors in Virginia, West Virginia, Kentucky and Delaware declared states of emergency.
Copyright 2018 The Associated Press. All rights reserved. This material may not be published, broadcast, rewritten or redistributed. We strive to uphold our values for every story published.