Owl calls
Photo Gallery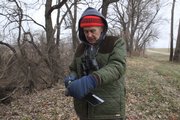 Christmas Bird Count
While there was some scientific value in the data collected at the annual Christmas bird count in Douglas County on Saturday, event coordinator Stan Roth said the main intent was to indulge bird lovers.
"It's a chance to get people outside and enjoy their hobby. We use science as an excuse," he said of the event sponsored by the Kansas Biological Survey.
Roth was one of about two dozen bird lovers scattered across the area Saturday, recording the various species found in 12 different sectors around Lawrence. He said the local bird counters will probably find about 90 bird species, and they compare the data to other years' counts, helping to identify bird patterns in the area. There also were about 35 bird counting teams across the state and hundreds in the United States counting birds Saturday.
Roth said the bird counters use a variety of techniques to identify the various bird species. In addition to actually seeing a certain type of bird, the counters listen to bird sounds and use bird behaviors as identifiers.
Kansas University graduate student Steve Roels was on the count with his wife, Sarah, and their dog, Flora. He said his ears are the best tool in spotting birds.
"Most things we won't actually see," said Steve, who's worked for years honing his bird identifying skills. "Once you get really good at it, it's so automatic."
The skills were demonstrated by Sarah, who after hearing a few bird sounds above, instinctually said, "Two robins, following a sterling."
Steve is also able to mimic bird sounds, which can help attract birds. He said he can make numerous bird calls, but he's best at imitating owl sounds.
And even when not on a count, all his bird training compels him to identify any bird he hears.
"You can't turn it off," he said.
Copyright 2016 The Lawrence Journal-World. All rights reserved. This material may not be published, broadcast, rewritten or redistributed. We strive to uphold our values for every story published.