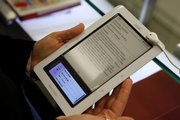 San Jose, Calif. — Victoria McNary usually finds romance and mystery in the paperback shelves at the grocery store. But one recent day she stopped into Barnes & Noble to consider curling up with a good Nook.
Bigger than an iPhone, smaller than a netbook, the Nook is Barnes & Noble's entry into what might be the next great gadget war. It is challenging Amazon's pioneering Kindle and Sony's Reader in the quest to lure book readers from paperbacks and hardcovers to a digital device.
Amazon, Sony and Barnes & Noble all report strong interest in e-readers this holiday season, with demand outpacing supply for both the Kindle and Nook.
Meanwhile, with dozens of e-readers already on the market, Silicon Valley startups Spring Design and Plastic Logic are planning to unveil their own models in January. And anticipation is building that mighty Apple, secretive as ever, will put its big foot into the fray with a pricey tablet in the spring.
Publishers of books, magazines and newspapers are paying attention to the market that envisions tablet devices as an alternative to paper. So is Google, angling to build a massive online store of e-books.
E-readers, some analysts predict, will soar in coming years, changing the dynamics of the publishing industry much as Apple's iPod changed the music industry. A recent report by Credit Suisse suggested that e-reader sales will soar from 1 million in 2008 to 32 million in 2014. Amazon doesn't disclose Kindle's revenues, but the report said they could climb from $624 million in 2009 to $1.8 billion in 2014.
Target audiences
For the moment, the competition is for mainstream consumers like McNary, a 59-year-old Sunnyvale, Calif., resident who had dropped by the Barnes & Noble. "I just ran out of room in my house. I can't put another bookshelf anywhere," she said.
Her doctor, she said, recommended the Kindle after noticing she was never without a paperback. But McNary said she prefers the Nook's colorful touch-screen control panel, which enables her to browse through book covers. She listened as a clerk explained that the Nook, at $259, would pay for itself in months because typical e-book best-sellers are priced at $9.99, below both paperback and hardcover prices.
Some technologically savvy consumers may be waiting for devices from Plastic Logic and Spring Designs in January.
Plastic Logic, with headquarters in Mountain View, Calif., has pioneered what it calls "plastic electronics" based on technology developed at the University of Cambridge in England. It is creating a lightweight touch screen tablet called the Que proReader with the familiar size of 8 1/2 by 11 inches.
While the Que will be able to load e-books from Barnes & Noble, Plastic Logic is marketing the device primarily as a business tool. The business "road warrior," explained Plastic Logic marketing executive Daren Benzi, typically lugs a heavy load of reports along with a laptop and smart-phone. The Que provides a superior means of presenting PowerPoints, PDF files, Excel spread sheets and other documents, he said.
Spring Designs, based in Fremont, is developing a dual-screen device called the Alex to combine e-reading with Web surfing. A six-inch screen provides the glare-free reading experience common to other readers based on E Ink technology. Another, smaller screen employs Google Android technology to allow readers to augment the text by, say, calling up a relevant map or YouTube video.
Apple's entry
In the wings is Apple, known for such taste makers as the iPod to the iPhone. Yair Reiner, analyst with the financial research firm Oppenheimer & Co., predicted Apple will ship a 10.1-inch touch-screen tablet in spring priced at $1,000. Apple is offering book publishers a better deal than Amazon, he said.
Apple's tablet is envisioned as a more media-rich experience than the e-readers now on the market, employing the liquid crystal display technology now used in the iPhone, not the E Ink common to other readers.
The Nook, however, seemed to suit McNary's needs. After decades of devouring page-turners, she acknowledged that an e-reader would take "a bit" of adjustment. E Ink, unlike old-fashioned ink on paper, takes a moment to materialize with every turn of the virtual page.
In the end, McNary suggested, the tale matters more than technology. "When you lose yourself in a book," she explained, "it's like you live the story."
Copyright 2018 The Lawrence Journal-World. All rights reserved. This material may not be published, broadcast, rewritten or redistributed. We strive to uphold our values for every story published.