Photo Gallery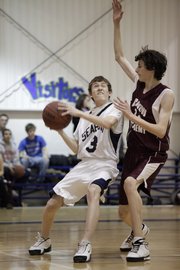 Seabury 67, Hyman Brand 61
Photos from Seabury's season opener against Hyman Brand.
After the night he had Tuesday, Seabury Academy junior Reed Grabill sure thought he earned better treatment than this.
Moments after leading the Seahawks to a 67-61 victory against Hyman Brand Hebrew Academy in the team's season opener, Grabill found himself alone on the bench, tying his shoe and taking orders from his coach.
"Reed, since you had such a big night, you get to pick up all of those water bottles under the bench for us," said Seabury coach Mike Harding in a half-joking, half-serious manner. "That's your reward."
With a hardy laugh and absolutely no sign of protest, Grabill went to work disposing of the trash under the Seahawks' bench. It was a fitting end to a night in which Grabill did everything else for the Seahawks.
His 31 points and 18 rebounds were both game-highs and represented the best individual effort he has turned in "since junior high." He also added two steals, two blocks and two assists and shot 65 percent from the floor.
About the only blemish on Grabill's night — other than picking up a few of the team's 22 turnovers here or there — was his 9-of-17 shooting from the free-throw line. But even that was something he atoned for by burying seven of his final eight charity shots to help the Seahawks close out the Rams.
"I struggled a little at the line," Grabill said. "I think I missed six in a row at one point. But the thing about free throws is, once you start hitting them, it's a lot easier to make the next one."
Grabill was hardly a one-man show for the Seahawks on Tuesday night. Senior Bill Gibbs chipped in 18 points, junior Skyler Malone added nine points, eight boards, four assists and three blocks, and junior Nathan Wilhelm and freshmen Michael Kresig and Austin Sweeney also contributed to Seabury's scoring attack.
In addition, senior Dan Simons added five assists, junior Samuel Ohashi grabbed four rebounds, and freshman Brandon McCaffrey provided valuable minutes at point guard for a team that battled foul trouble throughout the game.
The Seahawks (1-0) led almost the entire way but constantly had to fend off comeback attempts from the hard-charging Rams (1-8), who were led by guard Jeremy Gutovitz, who finished with 25 points. Part of that was a lack of experience. Part of it was a lack of focus. But overall, Harding said he was pleased with the way his team fought during its first game of the season.
"Hyman Brand was battle-tested, and we were dealing with some first-game jitters," Harding said. "But I thought we got off to a good start. We'll take it."
Copyright 2018 The Lawrence Journal-World. All rights reserved. This material may not be published, broadcast, rewritten or redistributed. We strive to uphold our values for every story published.