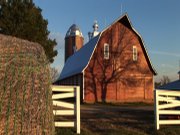 Gary Gilbert has fond memories of boyhood time spent at his grandparents' farm. That fondness is reflected throughout his 5,000-square-foot home situated on 350 acres in Tecumseh, just outside of Topeka.
From white fencing that surrounds the property to the twin tupelos topping his barn and a living space adorned with antiques, Gilbert's home pays homage to a past he cherishes.
"I always wanted to own my own farm; I liked the architecture of farmhouses. For me, this is all about a feeling of nostalgia," says Gilbert of the expansive acreage and the frame and limestone home that sits at its peak. The majestic property with enviable views was originally home to the Woodlawn Dairy, owned by the Abrahams family from the 1920s through the 1970s.
The rich texture of chestnut shell limestone is carried through to the home's interior on striking stone fireplaces that rise to meet dramatically pitched ceilings in the entryway and family room. Salvaged barn boards from an older structure on the property have been incorporated into the walls and doors of the home that also features cedar beams and plastered walls. Extensive antiques including John Deere collectibles and farm implements add ambiance to the warm and spacious floor plan. A collection of vintage tractors, another of Gilbert's passions, resides in the adjoining 4,000-square-foot barn.
The home, featured on the recent Holiday Homes Tour sponsored by the CASA program of Topeka, is lavishly appointed for the holidays.
Copyright 2018 The Lawrence Journal-World. All rights reserved. This material may not be published, broadcast, rewritten or redistributed. We strive to uphold our values for every story published.