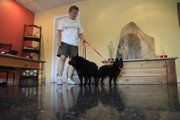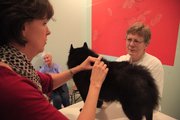 Lily the dog was given just three months to live. Six months if she endured round after round of chemotherapy.
"She had a torn ACL in her left hind leg, and I had it repaired in Kansas City," owner Shae Harrigan says of her schipperke. "But after she came back, they called me and told me that they had found a very aggressive cancer on her leg."
The news was devastating to Harrigan, but she wasn't about to watch Lily's quality of life take a nosedive just to squeeze out a few more painful months.
Instead, she called Cathy King, a Lawrence veterinarian who specializes in a holistic approach to animal health care. King had already been seeing Lily and Harrigan's other animals for a few years, and Harrigan decided that if Lily had just a few months left, she'd rather try to treat her naturally.
"She put together this whole regimen of homeopathic and herbal medicines and acupuncture, and my dog is just doing well," the Topeka resident says. "It's been a year and a half (since the diagnosis) and, as far as we know, she's cancer-free."
Judith McCrea can only nod her head. At her wit's end with a conventional approach to her black Labrador's laryngeal paralysis, the Lecompton resident called upon King, whom she'd heard about while standing in a pet store. She's never looked back.
Without any hint of exaggeration in her voice, McCrea says steadily: "What she does is so remarkable."
About the individual
What King does is take a view of healing quite unlike the traditional practice she started out in as a young vet in the 1980s. She spent more than a decade working as a conventional vet in a conventional office, very much unlike the spa-like space she keeps today at 512 E. Ninth St., home to Kaw Valley Natural Pet Care. After moving to Lawrence, she decided to take time off to raise her children. While away from the daily grind of seeing patients, she got a chance to fine-tune her view of medicine after using a more alternative approach in her own home.
"I saw the benefits of it for my family's health," King says. "I would say I kind of awakened to kind of a different way of looking at it — a more health-oriented way of looking at it, a more wellness-oriented way of looking at it, as opposed to somebody looking a it from the perspective of disease management."
Returning to practice in 2000, she worked at a local practice while also getting certified in holistic animal medicine from the Chi Institute, which teaches traditional Chinese veterinary medicine to practitioners who already have traditional veterinary degrees. After three years of training and multiple certifications, she opened a house-call practice in 2004 in Lawrence that focused on using combinations of acupuncture, fresh food, herbal remedies and other alternative treatments to improve the lives of her patients.
"What you do is assess the individual," King says. "I do a regular physical exam, and then I do a holistic evaluation which involves reading their pulses for imbalances, looking at their tongue color, assessing what you'd call 'active points' along the meridians or acupuncture points that might be depressed or excited, sensitive, cold, hot, whatever. And then coming to understand the way this animal, this individual, is in the world. And then advising someone on how to feed that animal, how to use herbs to support that animal in health or which supplements I think that animal should have."
McCrea remembers the first meeting between her dog, Chango Luk, and King.
"She transfixes dogs just by the calmness of her own disposition, and without any restraint whatsoever, she put 13 acupuncture needles in him and hooked him up to a particular rhythm of pulsating electric currant," McCrea says. "First of all, he relaxed. He quit snoring at night, his nose, his eyes ran — his eyes had look cloudy and gray and they cleared up."
King is quick to point out that she has great respect for traditional, allopathic medicine — she worked in it for years, after all. She just wants to create the best possible health for the animals in her care — and for the humans who love them, who many times, she says, have the same imbalances as their pets.
"It's not about giving them 100 pills a day," she says. "It's about having an individual who's got enough strength and flexibility to be who they are."
Copyright 2018 The Lawrence Journal-World. All rights reserved. This material may not be published, broadcast, rewritten or redistributed. We strive to uphold our values for every story published.