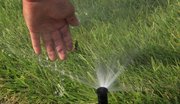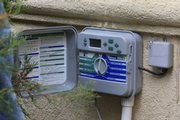 Note: This is the first of a two part series on watering. Next week will cover watering efficiently without irrigation.
Have you ever looked at your irrigation system and asked, "Is the water going where I want it?" That question is one you should be thinking about if you want to get the most for your money, says Frank Male, certified landscape professional and co-owner of Lawrence Landscape.
Irrigation is a great tool to help sustain plant life in times of drought, but systems deteriorate and fail over time, are sometimes poorly installed and are occasionally installed prior to landscaping that changes water needs. In a summer like this one — with lots of moisture at regular intervals, problems might be harder to detect but should still be considered.
The first step to making sure your system is running efficiently is to plan a regular walk-through, and Male recommends doing so at least once a month. Turn on the zones one-by-one and look for broken heads, clogged nozzles and heads that fail to turn (if rotary) or rise. Also, watch to see if irrigation heads as spraying as far as they should be: Many systems are designed for head-to-head watering, meaning that the water stream from each irrigation head should reach to the next nearest irrigation head.
Besides regular walk-throughs, Male recommends paying attention to the manual when programming your irrigation clock and keeping an eye on Mother Nature.
Beyond the basic upkeep, homeowners have a few one-time investment options to increase irrigation efficiency. Among the newest technological advances are weather stations and sensors that detect rain, sun and even evapotranspiration rates.
Bob Johanning, senior sales and technical representative for an irrigation supply company based out of Olathe, offers the scoop on new irrigation technology.
"Smart controllers and weather-monitoring devices could save you money, but there is no guarantee if the system is poorly installed, maintained or programmed," says Johanning. "Nozzling and pressure are really the most important things."
Johanning also believes that in a well-maintained system, a rain sensor or a combination rain and sun sensor will likely pay for itself in water savings in one season. Pricier sensors, like ET (evapotranspiration) sensors, are better fits for large, commercial properties.
When asked about the cost of such devices, Male says his company can install a rain sensor for less than $200.
Johanning, who used to perform irrigation audits of commercial properties, says that one location he inspected several years ago in the Kansas City area was using 800 percent more water than necessary. The money they are now saving on water more than covered the cost of the irrigation audit.
Homeowner's associations, athletic fields, golf courses and other commercial properties may want to hire a certified landscape irrigation auditor to analyze system efficiency.
— Jennifer Smith is the Douglas County Extension Agent – Horticulture. Contact her or an Extension Master Gardener with your gardening questions at 843-7058 or dgemg@sunflower.com.
Copyright 2018 The Lawrence Journal-World. All rights reserved. This material may not be published, broadcast, rewritten or redistributed. We strive to uphold our values for every story published.