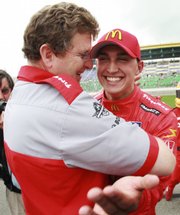 Kansas City, Kan. — Graham Rahal had his mind on the future when he became the youngest pole winner in Indy Racing League history three weeks ago.
"Man," the 20-year-old Rahal wondered aloud at the time. "I just can't wait until the day I get a second pole."
The wait proved shorter than even he expected.
On Saturday, Rahal won the pole for today's Road Runner Turbo Indy 300 at the Kansas Speedway's oval track — the first oval race of the season — with a blistering four-lap pace of 211.311 mph as the last qualifying car on the track. Race time today is set for 4 p.m.
Rahal, who turned 20 in January, now carries the title as the youngest IRL driver to own two poles.
"I didn't think it would come this quickly," Rahal said.
When Rahal captured the pole three weeks ago at the season-opener in St. Petersburg, Fla., he did so on a street course.
"We've shown this year we can compete on the road courses," Rahal said. "Now, we've shown we've got the speed at least to compete on the ovals. Now, we need to see how it goes in the race."
Joining Rahal in the front row will be his Newman/Haas/Lanigan Racing teammate, Robert Doornbos. They become the first teammates to qualify 1-2 in an IRL race this season.
"I don't think it's a good thing if we're not helping each other because I know I'll be sitting in an office in Chicago explaining myself," Doornbos said of his racing strategy with Rahal by his side. "I think it's a great team result, and we need to make the most of it tomorrow in the race."
Danica Patrick and Scott Dixon earned starting spots for today's race out of row two. Patrick began last year's Speedway race in third position but did not finish when a damaged right-wheel mount ended her day 44 laps from the finish.
"I watched some of last year's race and I went from third back to God knows where in not too long," Patrick said. "The racecar is the real important thing, so that's definitely our focus. But it's always nice when you can qualify in the top couple of rows."
Current IRL points leader Dario Franchitti fell from second in qualifying to the back of the pack for diving below the white line on turn one of the next-to-last qualifying lap. Helio Castroneves, who won the Indianapolis 500 in 2001 and 2002, also fell to the back for the same violation on the final turn of the checkered flag lap.
For Rahal, the pole position resulted in plenty of smiles for both he and crew members of his No. 2 McDonald's Racing Team car. In Rahal's first start at the Kansas Speedway a year ago, he qualified 12th and finished 20th.
"To have two polls in three races, I don't think that anybody expected it," Rahal said, "but we'll take it."
Notes: Saturday's NASCAR Camping World Truck Series O'Reilly Auto Parts 250 was suspended mid-race because of inclement weather. Fifty-two of 167 laps had been completed with Mike Skinner in the lead when the race was red-flagged.
The race will resume at 10 a.m. on Monday. Fans who purchased tickets for Saturday's race will be admitted with their ticket stubs. Gates open at 9 a.m.
Copyright 2018 The Lawrence Journal-World. All rights reserved. This material may not be published, broadcast, rewritten or redistributed. We strive to uphold our values for every story published.