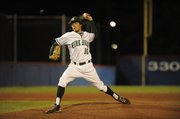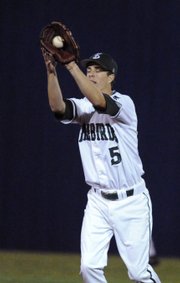 For the season's first seven games, Free State High's baseball team coasted to an undefeated record behind extraordinary pitching and less-than-ordinary hitting.
That risky formula finally backfired on the Firebirds on Thursday night.
Despite yet another quality pitching performance from sophomore Cody Kukuk, Free State fell to previously winless Roeland Park Miege, 2-1, in the teams' first game of the River City Baseball Festival at Hoglund Ballpark.
Kukuk kept the Firebirds in the contest by striking out 12 Miege batters and driving in Free State's only run at the plate. His teammates contributed just two other hits, both singles.
"Gee whiz, if you strike out 12 guys in seven innings, you probably ought to come out of there with a victory," Free State coach Mike Hill said. "But because of where we are offensively, we put enormous pressure on our pitchers and defense to be perfect, and they're not perfect."
Free State's pitching staff has been about as close to perfect as could be expected thus far. In the Firebirds' first eight games, they've allowed just 10 runs.
Clearly, that has not been the issue.
"Until we figure out a way to become better offensively, this is what we're going to continue to do," Hill said. "We hit two baseballs all night. You're going to have a tough time competing if that's the case."
The Firebirds plated their lone run in the bottom of the third inning thanks to successive hits by right fielder Connor Stremel and Kukuk.
Stremel cracked Free State's first hit, a sharp grounder that bounced off the face of Stags shortstop Sean Orrick and on into center field, moving left fielder Nick Hassig, who reached on a walk, from first to third. Kukuk then helped his own cause by lining a single into center, scoring Hassig from third and putting Free State ahead, 1-0.
But the scoring ended there. Free State did not record another hit until catcher Adam Petz's single in the sixth.
"We're not that strong of an offensive team," Stremel said. "If we can get those little base hits here and there, we can start to get going."
Miege (1-6) fought back to tie in the next half-inning. Stags pitcher David Collins cranked a leadoff triple to right field and scored on the next at-bat. That's when Firebirds second baseman Tyler Hatesohl backhanded Miege first baseman Alex Zinser's grounder deep in the hole near second but couldn't throw anybody out.
The winning run came courtesy of back-to-back Firebird gaffes in the top of the sixth. First, Kukuk threw wide of first on a pickoff attempt of pinch runner Curt Cebula, allowing him to motor around to third. Cebula then scored on Petz's passed ball behind the dish one batter later.
The Firebirds needed to be perfect. On Thursday, they were not.
"I think everyone notices that when we win, we only have about two or three hits on the night," said Kukuk, who allowed just four hits in a complete-game effort. "Tonight just kind of put the exclamation point on it because we lost."
Free State (7-1) will play its second game of the River City Baseball Festival against Champaign (Ill.) Centennial at CommunityAmerica Ballpark today at 5:30 p.m.
Copyright 2018 The Lawrence Journal-World. All rights reserved. This material may not be published, broadcast, rewritten or redistributed. We strive to uphold our values for every story published.