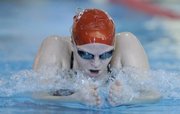 Morgan Flannigan did not know exactly how close the team standings were as she prepared to swim the last leg of the final swimming event at Free State High's Invitational Tuesday afternoon.
The Free State junior did know one thing about that final 400-yard free relay, though.
"It was a big one," Flannigan said.
Equipped with that knowledge, Flannigan and teammates Molly Albrecht, Adriane Black and Kayla Hedges proceeded to wipe away the field by seven seconds in 3:44.90 to take first place and help keep city rival Lawrence High at bay. Free State won the tightly contested meet with 449 points to Lawrence's 438 points.
"It was nice to have some in-town rivalry," Flannigan said. "It was close, but they still gave us a run for it."
Equally as significant was the performance of both Lawrence and Free State's B teams in the 400 free relay.
With the A teams already finished, the final scores of the B squads contributed greatly to deciding the overall team winner.
Lawrence's B team of Claire Frost, Rachel Buchner, Madeleine Neet and Allie Edmonds held off Free State's B squad of Caroline King, Liesel Reussner, Mariah Finley and Kara Mishler, 4:22.41 to 4:24.25. But the Firebirds still managed a sixth-place finish to the Lions' fifth to earn just enough points to seal the team victory.
"Our varsity meets are made up of everybody," Free State coach Annette McDonald said. "Everybody is scoring. They are just as important as our top guys. They feel really important to the team. It's not the five or eight guys at the top that are winning. It's the whole team."
Firebirds senior Dianna Torgerson had plenty to do with keeping Free State at the top of the leaderboard. Torgerson qualified for state in the one-meter diving. She finished with 189.25 points, good for second place overall.
"I'm really excited because now the rest of the season I can just focus on getting my dives perfected and learning some new ones," Torgerson said. "I think I'm going to try some crazy stuff. We'll see."
Also for Free State, sophomore Chloe Portela captured first place in both the 50 free and 100 fly.
For Lawrence, sophomore Emma Reaney swam two school-record times in the 100 backstroke and 100 freestyle. That made four school records in her first year with the Lions. She also broke the school record in the 100 breaststroke and 200 individual medley this season.
Reaney, who swam the last leg of the 400 free relay for the LHS A team, said she, like Flannigan, was unaware of the team standings in the last event.
What was her first thought upon hearing the results?
"Darn it," Reaney said. "I think we did the best we could. We had a lot of really good swimmers today, so it is what it is."
Reaney also participated on the Lions' second-place 200-yard medley relay team and 400-yard free relay team.
"She's really a positive force there," LHS coach Kent McDonald said. "She's always willing to do pretty much anything I ask. It really helps my coaching."
Copyright 2018 The Lawrence Journal-World. All rights reserved. This material may not be published, broadcast, rewritten or redistributed. We strive to uphold our values for every story published.