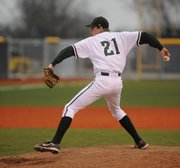 Hayden Emerson is doing his best to turn Free State High's dynamic duo into a triumphant trio.
On Thursday, Emerson, the No. 3 hurler in the powerful pitching arsenal that is the Firebirds' baseball team, joined fellow junior pitchers Ryan Scott and Cody Kukuk by picking up his second victory in the early season.
Emerson shut down Leavenworth for five innings in an easy, weather-shortened, 8-0 victory at Free State's field.
The three pitchers have won all six of Free State's games thus far (6-0). In total, the Firebirds' pitching staff has allowed just six runs in those contests.
"I think our pitching has been fantastic," Free State coach Mike Hill said. "We're very happy with them and their progress."
Thursday was Emerson's turn to shine in the rotation.
Emerson worked quickly through the Pioneers' lineup despite howling winds that caused popups to drift all over the field. He struck out five and walked none before the game was called in the bottom of the fifth because of lightning and rain.
"I thought it was going to have a little effect on my curveball, but after I got used to it, I just settled in," Emerson said of the weather conditions. "Things worked out."
Emerson retired the final 13 batters he faced after allowing two singles in the first inning.
"He had good rhythm, he attacked the zone, and he let his defense play behind him," Hill said. "You can't really ask for more than what he gave us today."
Offensively, the Firebirds seized control by taking advantage of the Pioneers' wild pitching. Leavenworth starter Josh Herrig walked seven batters and hit two more.
Six Firebirds collected RBIs, but only two recorded hits.
Kukuk delivered two singles, and right fielder Connor Stremel hit the other single. Everything else occurred with the bats on players' shoulders.
"We knew they were struggling throwing strikes," Kukuk said. "We just tried to make the pitches we hit really good."
Free State tallied two runs in the second, on bases-loaded walks to shortstop Colin Toalson and center fielder Camren Torneden. The Firebirds then scored six runs in much the same fashion in the fourth inning, amassing just one hit.
Free State has outscored opponents, 23-6, this year.
Could this season have started any better for the Firebirds?
"Well, we could've gone to Oklahoma and played a couple of games and won those," Kukuk said, "but other than that, no."
Kukuk was referring to an early-season trip to Oklahoma that was derailed because of inclement weather, but his confidence reflects his team's play, particularly that of the pitching staff.
If there is one concern for the undefeated Firebirds, Hill said it was finding consistent hitting performances throughout the lineup. Before Thursday's contest, the most runs Free State had scored in game was four.
"We're continuing to make strides, and we've got a long way to go to be the kind of offensive team that we need to be," Hill said, "but the kids are working at it, and that's all we can ask for right now."
Free State remains at home to take on Lawrence High at 5:30 p.m. Monday.
Copyright 2018 The Lawrence Journal-World. All rights reserved. This material may not be published, broadcast, rewritten or redistributed. We strive to uphold our values for every story published.