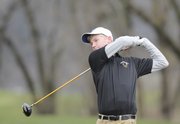 Technically, Thursday's Free State Golf Invitational at Eagle Bend Golf Course was a varsity meet.
But the familiar top-flight faces from both Free State and Lawrence High's boys golf teams were not in attendance.
"We've always wanted to have a tournament like this," Free State coach Matt Gudenkauf said. "We've talked about it for the last three or four years and I finally talked Eagle Bend into hosting it. I told all of the coaches to bring their "tweeners" and their new guys so that they could get a taste of a varsity meet."
The absence of the standouts was the only thing about Thursday's tournament that pointed toward the purpose of the meet. Otherwise, the top scores were in the 70s, the weather — rainy, cold and windy at times — was typical of an early-April Kansas golf tournament and the results, for the Lions and Firebirds at least, were encouraging.
Lawrence High coach Dirk Wedd followed the spirit of the tournament to a tee. None of the top six LHS golfers teed off in the event.
"I used it as a JV meet," Wedd said. "Three out of the six kids we took had never played in a golf tournament so it was good for them to go through that and to see what it's all about."
The Lions finished 11th at the 12-team event and were led by Kyle Consolver's 89. Consolver shot a 41 on the front nine and fired a 48 on the back nine. Scott Friesen followed Consolver with a 91 and John Flory (93), Spencer Hutchens (94) and Sam Willoughby (99) all broke 100.
Free State, which fielded two teams, fared considerably better. Free State's No. 1 squad finished eighth with a team score of 340 and the Firebirds' No. 2 team finished 10th with a 355.
Joey Sakumura and Joe Morris were the top FSHS scorers at Thursday's event. Both shot 81 and tied for 12th place individually. Three other Firebirds — Evan Schmidt (85), Connor Klutman (84) and Ryan Leibach (89) — broke 90 and all but one Free State golfer broke the century mark.
"My main goal at this tournament was to get the younger guys playing and to see where they were at," Gudenkauf said. "And, quite honestly, I'm very happy with where they're at."
Although the scores kept the Firebirds and Lions out of the winner's circle, both coaches said they were thrilled with how their teams fought through the less-than-ideal weather conditions.
"They were pretty severe," Wedd said. "I think the wind chill at 1:30 or so was probably 30 degrees or below. They might run into those conditions again and it was good for them to go through a little adversity."
Gudenkauf, whose team already had one meet rained out this season, said he expected the Firebirds to see similar weather at some point down the road.
"If this was regionals or state, they would've played," Gudenkauf said. "So I'm glad we got it in. It was good for the kids, and the chances of us being able to reschedule it were slim to none."
Some golfers actually played better during the bad-weather portion of the day. Free State's Lee York, who shot a 90, played the first seven holes at 3-over par and then fell off when the sun peeked through the sky.
"Overall, I thought they did great, considering the weather," Gudenkauf said. "They were all bundled up and they went after it."
Copyright 2018 The Lawrence Journal-World. All rights reserved. This material may not be published, broadcast, rewritten or redistributed. We strive to uphold our values for every story published.