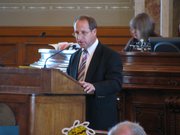 Topeka — The Kansas House on Friday approved another bill that would allow construction of two 700-megawatt coal-burning power plants.
But the 74-48 vote is 10 votes short of what it would take to override a certain veto from Gov. Kathleen Sebelius.
After the House action, the Kansas chapter of the Sierra Club, which opposes the project, released a statement, urging legislators to drop the issue and focus on developing renewable energy.
"We look forward to the governor vetoing this bill and encourage legislators to sustain it," the group said.
The vote sets the stage for another veto showdown when the so-called wrap-up session starts April 29.
Between now and then, legislators will undoubtedly be lobbied on both sides.
The issue has rocked Kansas politics for 18 months.
Hays-based Sunflower Electric Power Corp. and Colorado-based Tri-State Generation and Transmission Association have proposed building the plants in southwestern Kansas.
Sebelius has rejected the project, citing its annual emission of 11 million tons of climate-changing carbon dioxide. Sebelius also has said the plants are not necessary, since 85 percent of the power would be sold to out-of-state customers, and that new federal rules on CO2 coming down the pike would make the project unfeasible.
Supporters have said the project will help the economy, and the plants will be among the cleanest coal-fired units in the country.
Sebelius vetoed three coal plant bills last year. The Senate has been able to reach two-third majorities to overturn the vetoes, but those efforts have fizzled in the House, which has fallen several votes short.
On Thursday, the Senate gave the bill a 31-7 veto-proof margin, which put the focus back on the House.
House Speaker Mike O'Neal, R-Hutchinson, has said he was confident that when the time came, he could muster the 84 votes in the 125-member chamber that would be needed to override a veto.
The measure has lost support from when it was first approved in the House this session, 79-44 in late February.
Sunflower Energy issued a statement, urging support of the bill.
"Gov. Sebelius has promised to veto the energy bill in the current form when it crosses her desk," the statement said. "While history prepares us for this outcome, we can only hope that the strong support in both the House and the Senate will serve as a strong indicator to the governor that this energy legislation is a package Kansans support."
Copyright 2018 The Lawrence Journal-World. All rights reserved. This material may not be published, broadcast, rewritten or redistributed. We strive to uphold our values for every story published.